Julie Andrews feet don't quite make my top 5 list of reasons to visit Austria unfortunately, although I'd have to say they might make the top 10.  Here's a quick list of a few reasons why Austria is one of my favourite places in Europe. I'm not even going to include that fact that the country is beautiful beyond belief and the people are really friendly and welcoming, plus as a bonus, there are usually some pretty budget flights available from most of the surrounding European countries if you book early.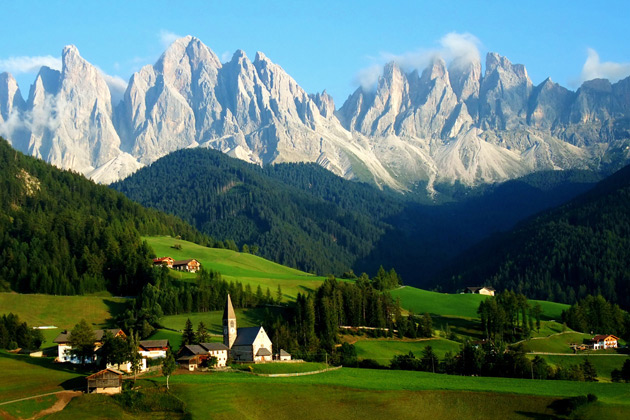 1) Yodeling – What more can I say, this unique form of 'singing' was either designed as a form of communication between alpine villages or for farmers to call to their flock while in the mountains (the jury's still out on which is correct). Either way, it's a pretty unique form of communication that, while not only the product of Austria (the Swiss and the Germans love to get their yodel on too) it's safe to say that some of the best yodelers in the world hark from this central European country. The earliest yodel was recorded in the mid 16th century and the tradition still continues to this day, so I'd highly recommend checking some out while in Austria. If you've ever experienced a solid yodel in the flesh you might understand why anyone who can yodel gets placed firmly in my 'awesome people' basket, especially this guy.
2) Mountains –  You can't go to Austria and miss seeing the Alps, like, you literally can't, they're absolutely massive. The Austrian Alps (the Central Eastern Alps) are the country's biggest natural drawcard for tourists and are a bit like a mountain climbing, mountaineering and skiing mecca. Innsbruck is the major city of the region and is well worth visiting with some very cool attractions like Swarovski Crystal World (think caverns filled with crystals) or the Aplenzoo, (the highest zoo in Europe). The Werfen Ice Caves are also well worth a look if you're fit enough they're absolutely beautiful and unlike anything I've ever seen before. Just get ready to climb a whole lot of stairs to reach the caves as like most things in Austria they're really high up on a mountain.
3) Classical Music – If by classical music you think I mean AC/DC I'm not sure I can help you. However if you're into a spot of Mozart, Schubert, Beethoven or Strauss you might be a little more interested to know that all of these classic musical magicians were either from Vienna or lived there at some point in their lives; making the capital of Austria also one of the world's capitals for classical music. With one of the best orchestras on the planet (the Vienna Philharmonic) and some of the most beautiful, historic and famous concert halls in the world, it's basically a classical music lover's dream city. Not only that but Vienna is absolutely stunning, in my opinion, it's probably the most beautiful major city in Europe.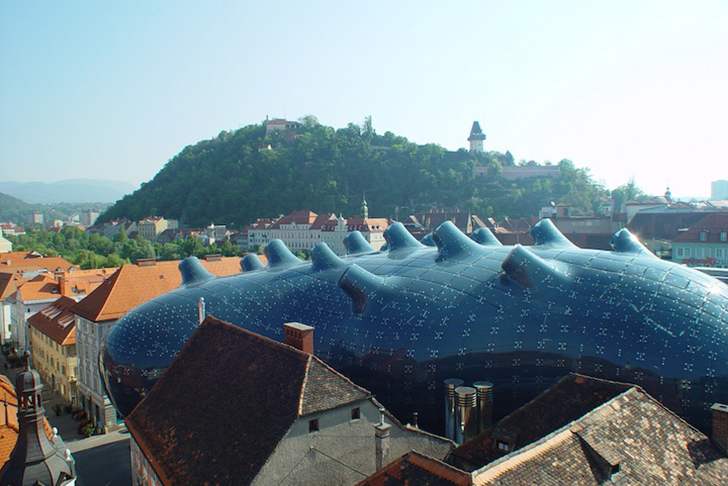 4) Architecture – Architecture buffs will also adore Austria, especially the capital Vienna with its extensive range of beautiful buildings, from classicist designs through to the ultra-modern shapes of the Kunsthaus Graz art museum building, affectionately known by locals as 'the friendly alien'. As if this weren't enough the many palaces that dot the city also play host to the 200 balls that are held in Vienna each year. The most notable palace to host these events is the famous Hofburg Palace, the old centre-point for the Austro-Hungarian Empire and home of the Habsburg Dynasty.
For information on some of the other great cities for architecture in Europe, check out this article.
5) Food & Drink – Unlike other places in Europe (cough *Scotland* cough), Austria is a food lover's paradise. Get ready for rich food, really, proper, awesome rich food. Think the best chocolate this side of Willy Wonka's golden ticket and the spiritual home of apple strudel. Another Austrian delicacy the Wiener Schnitzel (crumbed veal) is also well worth a try. I'd recommend washing it all down with a world famous Viennese Coffee (or hot chocolate) alternatively if you feel like something of a more alcoholic 'persuasion' there's always a bottle or two of very fine Austrian wine (most people are unaware that Austria has been a producer of wine for around 3000 years!).

For more great articles like this one, check out the homepage.