Top 5 Places to Visit in Austria
Julie Andrews feet don't quite make my top 5 list of places to visit in Austria unfortunately, although I'd have to say they might make the top 10.  Here's a quick list of a few reasons why Austria is one of my favourite places in Europe. I'm not even going to include that fact that the country is beautiful beyond belief and the people are really friendly and welcoming. Plus as a bonus, it's easy to get to. There are usually budget flights available from most of the surrounding European countries if you book early.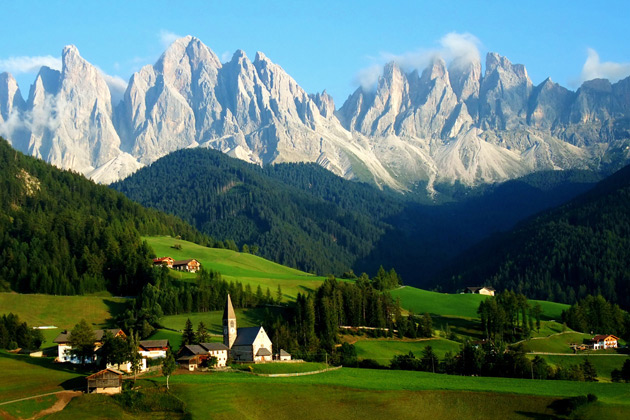 Amazing places to visit in Austria
Salzburg
Austria's 4th largest city on the border with Germany with stunning views of the Eastern Alps. Split by the Salzach River the beautiful Old City, filled with medieval and baroque buildings faces off against the 19th century's New City across the river. This one of the most popular places to visit in Austria, not only for its beauty but also for its history. It was the birth place of a little guy called Mozart who may have written a couple of bits of classical music. There's, of course, a Matzart museum which has various childhood instruments on display which is well worth a look.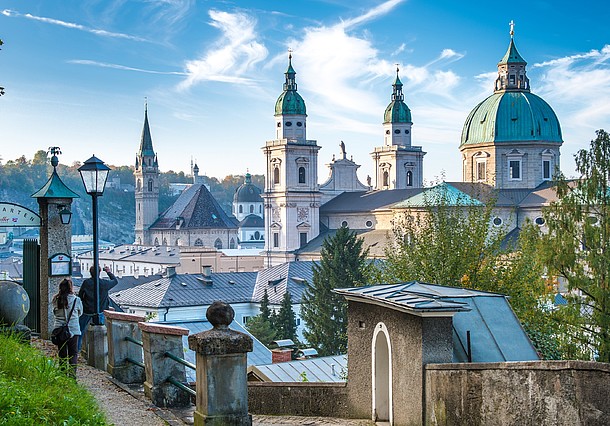 It's also the home of a yodelling school! What more can I say, this unique form of 'singing' was either designed as a form of communication between alpine villages or for farmers to call to their flock while in the mountains (the jury's still out on which is correct). Either way, it's a pretty unique form of communication that, while not only the product of Austria (the Swiss and the Germans love to get their yodel on too) it's safe to say that some of the best yodelers in the world hark from this central European country. The earliest yodel was recorded in the mid 16th century and the tradition still continues to this day, so I'd highly recommend checking a yodel out while in Austria. If you've never experienced a solid yodel in the flesh you might understand why anyone who can yodel gets placed firmly in my 'awesome people' basket, especially this guy.
The Alps
Clearly, the Alps are not a single place, but more like a whole bunch of amazing places to visit in Austria. You can't go to Austria and miss seeing the Alps, like, you literally can't, they're absolutely massive. The Austrian Alps (the Central Eastern Alps) are the country's biggest natural drawcard for tourists and are a bit like a mountain climbing, mountaineering and skiing mecca. Innsbruck is the major city of the region and is well worth visiting with some very cool attractions like Swarovski Crystal World (think caverns filled with crystals) or the Aplenzoo, (the highest zoo in Europe). The Werfen Ice Caves are also well worth a look if you're fit enough they're absolutely beautiful and unlike anything I've ever seen before. Just get ready to climb a whole lot of stairs to reach the caves as like most things in Austria they're really high up on a mountain.
Vienna
The capital of Austria sits to the East on the Danube river. It's a city with a long and illustrious past and has done much to shape Western culture being the home of Mozart, Haydn, Beethoven and Sigmund Fraud among many other prolific thinkers and leaders of culture.
The city is filled with beautiful buildings of historical significance with the entire city centre recognised as a UNESCO World Heritage site so it pretty much has to be on the list of the best places to visit in Austria.
It's also got more palaces that you can shake the crown jewels at including the famous Hofburg and Schonbrunn Palaces – hosts to many of the 200 balls that are held in Vienna each year. The Hofburg was also once the old centre-point for the Austro-Hungarian Empire and home of the Habsburg Dynasty. The city is also supported by modern and extremely well functioning public services like transport etc.. leading to Vienna being consistently voted in the top 3 most livable cities in the world. Not only that but Vienna is absolutely stunning, in my opinion, it's probably the most beautiful major city in Europe.
Vienna is also one of the best places to visit in Austria as it's known as one of the worlds Capitals of Classical Music and for good reason. Mozart, Schubert, Beethoven and Strauss plus many more of these classical musical magicians, were either from Vienna or lived there at some point in their lives; making the capital of Austria also one of the world's capitals for classical music. With one of the best orchestras on the planet (the Vienna Philharmonic) and some of the most beautiful, historic and famous concert halls in the world, it's basically a classical music lover's dream city.
Graz
Architecture buffs will also adore Austria, especially the capital Vienna with its extensive range of beautiful buildings. But if there's one place that stands out from the 'crowd' when it comes to architecture in Austria, it's Graz. More specifically it's the Kunsthaus Graz art museum building, affectionately known by locals as 'the friendly alien'.
If you get sick of looking into the future, try going back in time. The Altstadt von Graz (Old City) is absolutely stunning with each of its many buildings offering something different and charming to a visitor. Didn't get enough of palaces in Vienna? No dramas hit up Schloss Eggenberg, which is most significant Baroque palace complex in Styria. It's immaculately kept and aside from all the tourists with digital cameras, is guaranteed to take you back in time.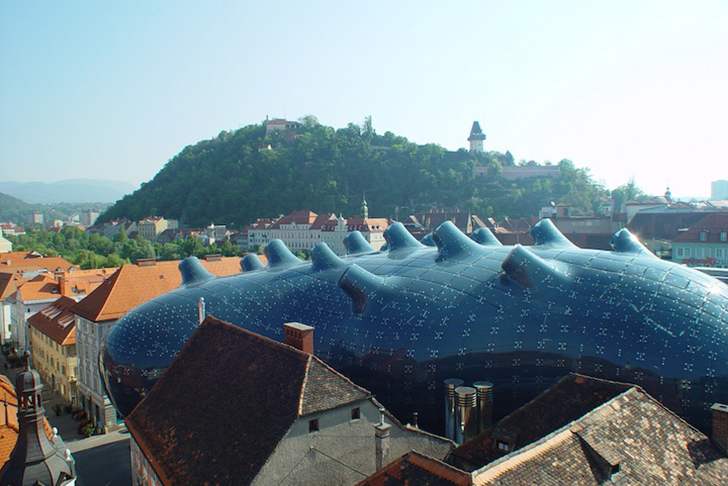 Into Game of Thrones, swords and all things historical arms and armour like me? Look no further! Graz is home to what is allegedly the worlds largest historic armoury with the Styrian Armoury Museum with approx 32,000 pieces in the collection. This museum alone, would be enough for me to make the trip to Graz, but that's just me and I'm a giant nerd.
For information on some of the other great cities for architecture in Europe, check out this article.
Wachau
The Wachau Valley is an often overlooked beautiful region West of Vienna with rolling hills, vineyards and fortresses. It makes the list of awesome places to visit in Austria and attracts many a wine connoisseur to its vineyards as well as travellers and tourists alike. Famous for being host to Dürnstein Castle, the fortress that once held captive England's King Richard the Lionheart.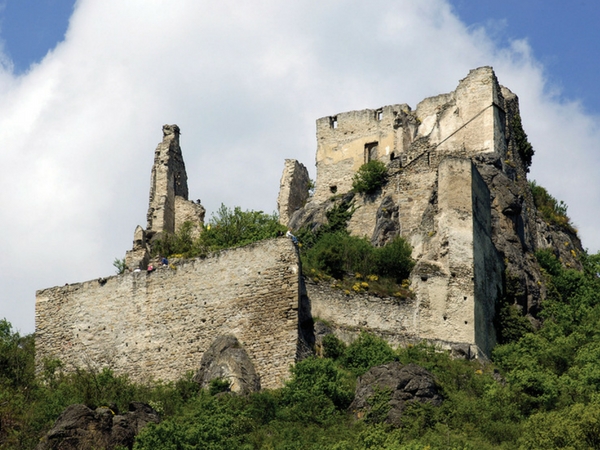 The region is also known for its beautiful and ancient monasteries – Melk Abbey and Göttweig Abbey as well as many other ancient ruins and castles.
Bonus Section – Food in Austria
Clearly not a place, but I couldn't write about Austria and not bring up the food. Unlike some other places in Europe (cough *Scotland* cough), Austria is a food lover's paradise. Get ready for rich food, really, proper, awesome rich food. Think the best chocolate this side of Willy Wonka's golden ticket and the spiritual home of apple strudel. Another Austrian delicacy the Wiener Schnitzel (crumbed veal) is also well worth a try. I'd recommend washing it all down with a world famous Viennese Coffee (or hot chocolate) alternatively if you feel like something of a more alcoholic 'persuasion' there's always a bottle or two of very fine Austrian wine (most people are unaware that Austria has been a producer of wine for around 3000 years!).

Last thoughts on the best places to visit in Austria
Austria is without a doubt one of my favourite places in Europe. It's beautiful, filled with history, with a deep sense of culture. It also enjoys one of the highest standards of living in the world and is one of those places where everything just seems to work, which I really like. This small list of the best places to visit in Austria hasn't even scratched the surface but it's a start! if you only have a few days I'd start in Vienna and then try and see some of the Alps, but if you had a little longer, it's so worth visitng the wine regions and getting out of the cities and into the smaller towns that dot the countryside.
For the latest stories and articles, check out the homepage.