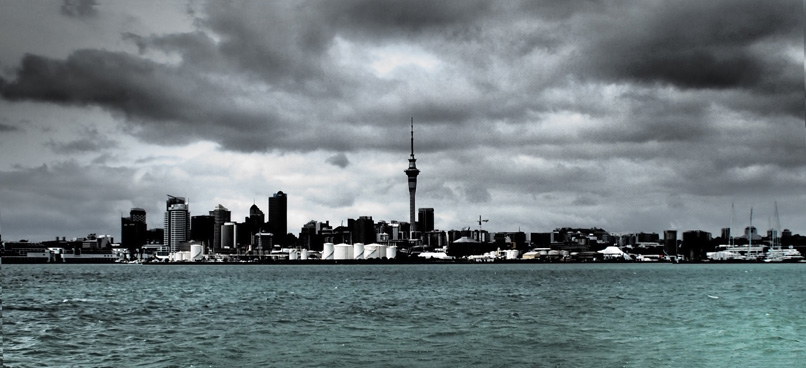 What is the most New Zealand thing in the world? I'd say a rugby team made-up of entirely just Hobbits eating 'Fush & Chups' and sharing their rather undulating field with about ten thousand sheep. Can't say the poor guys would do too well though judging by the size of some of the lads in this country, I think a hobbit is more likely to be mistaken for the ball than a player. They like rugby in NZ, maybe more than most rational people like oxygen or sanitation, not even kidding. We had only 10 days to enjoy this beautiful country after arriving so we decided to spend the whole time getting to know the North island, which seems to spend most of it's time living in the shadow of the South Island's formidable reputation as the southern hemisphere's poster-boy for adventure travel and picturesque scenery.
International flights will land in Auckland, the North Island's largest city. Auckland is home to only 1.3 million people and yet is the most populated centre in New Zealand and also the commercial heart of the country.
This was one of the first cities in my long term travel adventure and it was a great way to start. We stayed in a beautiful house overlooking the Auckland bay area with stunning views comparable to standing behind Scarlett Johansson on the up escalator, let's just say Auckland is a good looking city offering fantastic accommodation. 'Aucklandiens' be gentle but let's be honest, it's really another Australian city. The crowded suburbs, footpaths and streets remind me so much of Sydney, oh yeh, they both also have massive-ass bridges that even look like they were designed by the same guy. Auckland has a friendly chilled vibe that I found was echoed across the country and the bay area was home to a good few hostels, shops, restaurants and more funky little bars than I could ever hope to visit in the 2 days we had there so definitely worth a bit of time. The various ferries are a fantastic and cheap way to get around the bay area and many islands (in fact in some cases they are the only way!).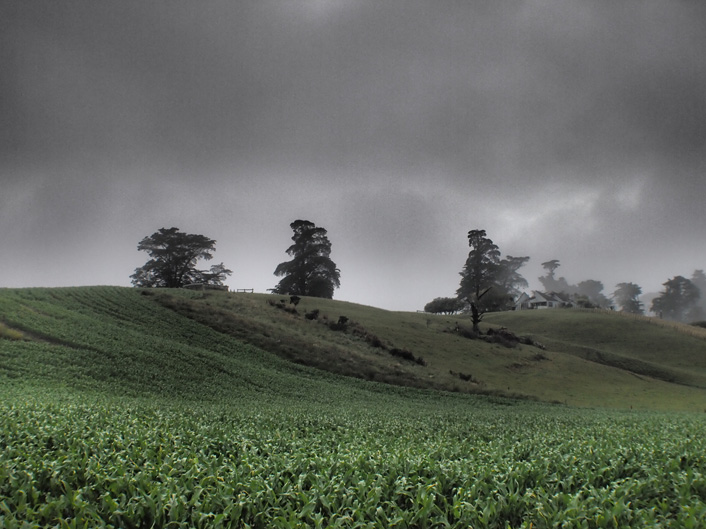 The best way to see New Zealand is to hire a car or a camper. There are so many great spots to pitch a tent (including free camping) here that I'd actually recommend a car over a campervan unless you get a fully contained van with toilet and shower. The roads are good and it's such a drivable country as the distances are pretty manageable with a good rental car setting you back between about $28 and $40 NZD per day.
Sadly we didn't get a good rental car and elected to pay just $19 per day, consequently our chariot of choice was an old Nissan Micra, literally Mr Beans car.. not the ideal companion with her mighty 1 litre motor pushing out all of about 3 horsepower on a good day, making the hill ascents about as stimulating as watching paint dry.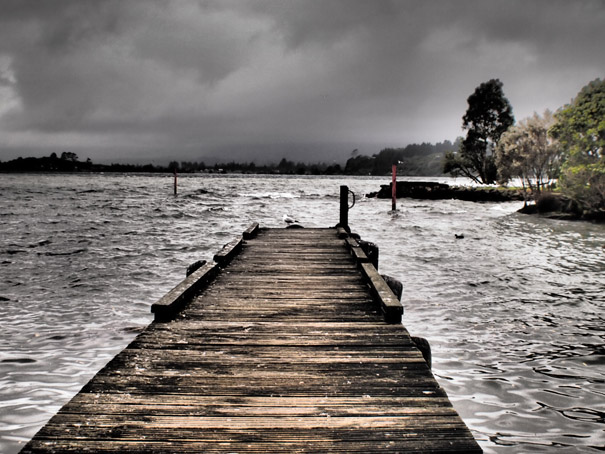 As it turns out, there is only one thing that New Zealand has more of than sheep, and that's hills.. so my advice to anyone hiring a car, get one with even just a little grunt. No that orange blur that just overtook us was not a Bugatti Veyron it was just another Toyota Corolla..  But once over the crest, get ready for some butthole puckering, white knuckle cornering experiences going down that left me with more white hairs than Dumbledoor.
Once we left Sydney.. I mean Auckland we headed into countryside that rated pretty close to 9 on my scale of awesome (10 point scale) perfect for a budding photographer. Undulating hills, the most vibrant colours of green, pastures topped with mountains (and sheep), forests and a deep blue sky filled with clouds that bizarrely looked more like UFO's than anywhere else I'd ever seen.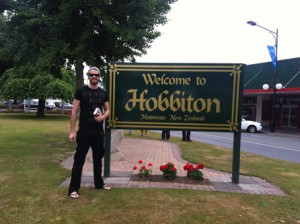 On our way down to Rotorua, the famous central North Island thermal, lake side town we stopped for a short visit to Matamata. Mainly because it was the base for Hobbiton in the new Peter Jackson Middle Earth epic, The Hobbit. New Zealand (and especially Matamata) are beyond Hobbit crazy right now, you can hardly walk 5 steps without a hairy footed midget, or a wizard crossing your path. But unfortunately the guided tours of Hobbiton were close to $300 from Auckland and almost $100 from Matamata, so even with the promise of an ale from the famous 'Green Dragon Inn' it wasn't enough to get this thrifty Elf to open his coin purse (you also can't get anywhere near the set of the film unless you're part of a tour – looks like these Hobbits are actually quite crafty business people too, dammit!)
But on the plus side during my visit to Matamata I met a really nice Monk who gave me a copy of the Bhagavad Gita, which for some reason I promised him I'd read, so feeling all Yogi-like and all things transcendental we departed Hobbiton with Krishna's blessing and headed south.
Our destination of choice, the world famous town of Rotorua. Rotorua permanently smalls a bit like someone farted, which makes for a fantastic excuse when you actually do 'cut the cheese' as you're driving around the various hot springs and lake which together emanate enough sulphur to put Hades out of business. The town is famous for it's many hot springs and geysers which dominate the landscape of the North Island and sadly (or not if you're a big fan of Darwinism) cook the odd tourist stupid enough to jump over the barriers and fall into boiling hot water – as some inevitably do each year.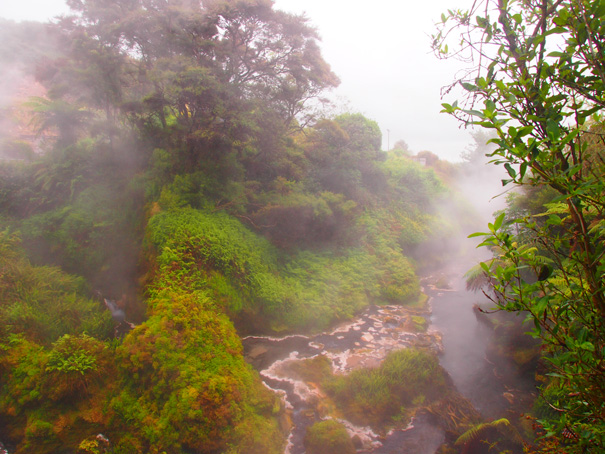 Rotorua is one of the North Islands answers to adventure capital Queenstown in the South Island, playing host to Skydiving, all sorts of rafting, boating, some crazy mountain bike trails and all other sorts of adrenaline pumping, pant soiling activities. Personally I'm not sure any of these could match the drive down for turning hair white but anyway.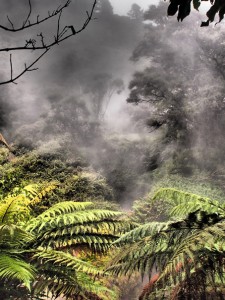 Hot springs are a fantastic way to wash away the stress of the drive down and range in price from about $12 up to $75 for private pools at the 'top-end' Spas. The best value springs we found were about $14 you get access to 6 different spring pools ranging in size and temperature, the water is as soothing and you can take as long as you like wallowing in the volcanic waters.
Next up I visit the best wineries in Napier, one of New Zealand's famous wine regions, get drunk with old people and tangle with the New Zealand police!