The port city hub of Fethiye (found in the Southwestern region of Turkey's stunning Turquoise Coast) has to be one of the best destinations I can think of along one of the world's most beautiful stretches of coastline. – The Turquoise coast is stunning, for those who are unlucky enough not to have visited (yet).
The eastern half of the Turkish Province of Mugla in South West Turkey is centred on the expanding port town of Fethiye. There is an extensive coastline, dotted with small and quiet coves with small beaches, local villages as well as some developing small towns, due to the expanding tourist numbers in the region. The surrounding islands, (largely uninhabited) are welcome anchors for passing yachts and gullets and attract the kind of tourist who likes to do their fair share of exploring.
Inland, historical and cultural treasures can be found, natural geological features, flora, fauna and fertile land which produces fresh fruit, vegetables, olives and herbs to help create Turkey's tasty (and famous) cuisine.
As a tourist destination it does kind of have everything plus with the Mediterranean climate there are lengthy unbroken spells of sunshine throughout the summer and let's be honest, everyone looks better with a tan! There are equally good attractions on both land and sea, so if you have access to a boat, it's the ideal opportunity to see both.
Fethiye
Fethiye is served by Dalaman Airport, under an hour's drive to the west. It has a well-developed harbour, which includes a ferry to Rhodes. While there are plenty of boats available for day trips, it's far more fun to take to the sea in your own boat for a real adventure (just hire one!). Accommodation is good, fairly inexpensive and you can even eat the fish you catch at sea on board. The sea is warm and calm with plenty of opportunities to do absolutely nothing or be active day to day; the choice is yours.
There is plenty of information about Fethiye itself online so Google is your friend here. It has the infrastructure of a modern expanding town and for those so inclined; there's good shopping as well as the old narrow streets lined with traditional carpet and craft sellers. Another great part is that you don't have the huge number of the famous Istanbul scams and fraud you get in the bigger cities. The highlight of the many restaurants is, in fact, the Fish Market in the centre of town. You select your own fish from the stalls then ask one of the restaurants that surround the stalls to cook it for you. Within Fethiye, a highlight for me was the history, which includes an amazing amphitheatre, sarcophagi and Lycian rock tombs as well as a good museum.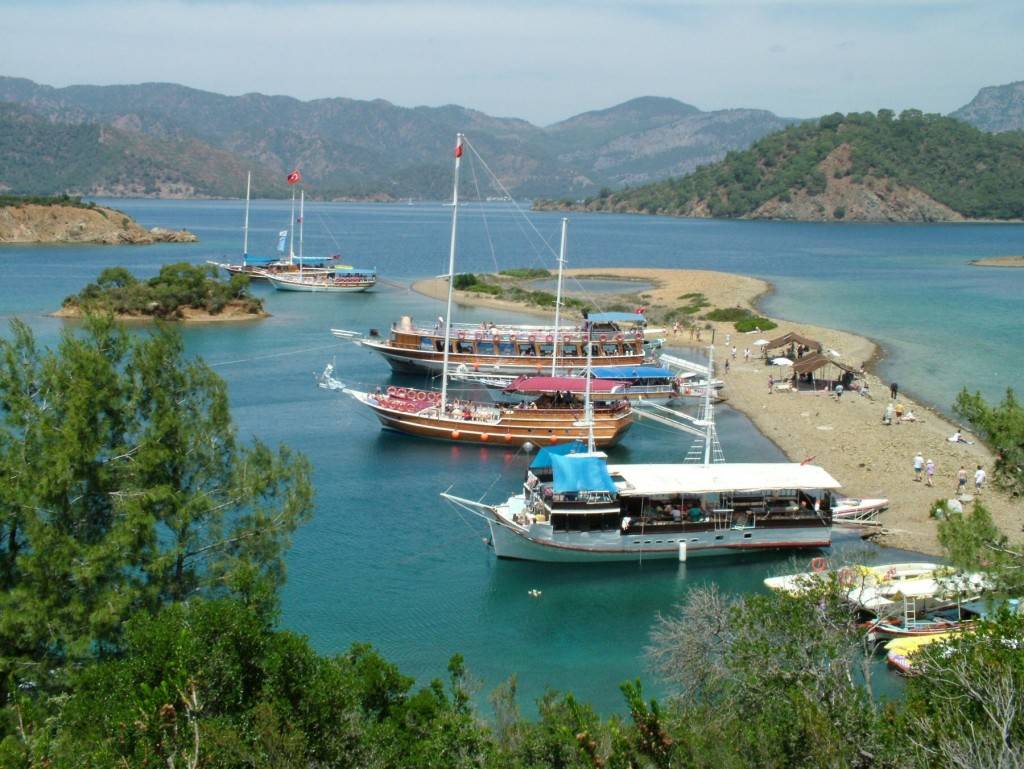 However don't just stay in town there are good reasons to go further afield:
Oludeniz
The Blue Lagoon, as Oludeniz is nicknamed, is just a short journey via boat. The stunning setting is set off by the many Para-gliders that are regularly seen descending from the mountain above all the way down to the beach. A nice bonus is that development is forbidden in the area so it should remain a popular and natural spot for years to come.
Butterfly Valley
This valley is a steep-sided canyon running down to the sea and is also best accessed by boat. The Jersey Tiger, a colourful moth, is the highlight for butterfly watchers though there are many species of butterflies and moths found in the area. The flora and fauna both are a joy and a nice touch being that environmentally conscious tourists can actually sleep there overnight.
Saklikent
Though it's about an hour long journey to get to this stunning canyon, it's absolutely worth it if the itinerary permits. It is 300 meters deep and 18 km's long and was formed by fast flowing water eroding the rock over thousands of years. The water level rises through winter and once April arrives and the snow off the Taurus Mountains has melted and met the sea, it's possible to hike 4 km's of it. Be warned though, the water may be beautiful, but it's literally ice cold!
Gocek & 12 Islands
The small town of Gocek and the nearby islands, all uninhabited, are worth every a bit of time spent getting there on a charter. There are plenty of places to anchor and the added advantage is that once the day trippers have gone you can settle down in complete, wonderful solitude with nothing but the sea and a steady temperature for a relaxing night before moving on in the morning.
There's lots of great info about this famous area of Turkey online so again, get your Google on or click for info on any of the places mentioned above, but Fethiye's just the beginning, there are so many other amazing spots along the Turquoise Coastline well worth investigation.
The treasures of the coast continue from east to west with yachting and gullet cruising possible in both directions. To the east, Kalkan is a favourite tourist spot and is now home to a substantial number of ex-pats, Kas too with its excellent sporting facilities as well as the city of Antalya. To the west the protected region around Iztuzu Beach as well as Dalyan and Koycegiz Lake, Marmaris, the Datca Peninsula than on all the way on to Bodrum and the Greek Islands.
I spent around 3 months cruising up, down and around Turkey a couple of years ago and it's still one of my favourite destinations in the world. So get your boat shoes on, don your favourite pair of nautical shorts and get sailing!