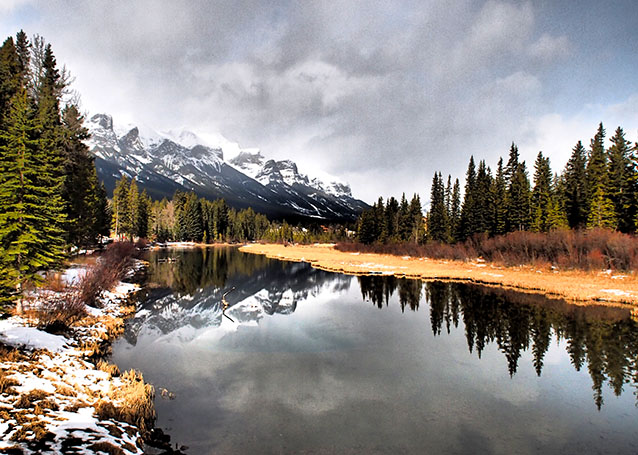 There's a pull to the outdoors that seems to affect some people in a way that it appears almost primal. I'm not one of these people exactly but I understand the 'affliction'. I have yet to scale the summit of Everest or indeed have any mountaineering experience at all (as yet), however to me mountains above almost every other part of nature do seem to hold some sort of instinctive underlying power. Their great silence, brooding intensity and majesty blot out the horizon in such a profound way that it's no wonder they have been associated with the divine throughout history. I put standing at the foot of a giant snow-capped mountain into roughly the same boat as looking up in wonder at the stars. In those moments of quiet reflection I almost feel that I can hear an echo of infinity that strips me of all ego through reminding me just how small and insignificant we all are.
I have generally always found this feeling of insignificance both empowering and humbling in an existentialist sort of way, and have I feel greatly benefited from its presence in the past. I'm often left wondering what the point is in getting too concerned in the 'human' problems of day to day life, as so often the minutiae of our lives seem to dictate our behaviour in a way I find as amusing as I do pathetic.
The Banff National Park in Alberta, Canada is a place of total humility for me and venturing into its wild and untamed beauty is a humbling experience. Scenes of such magnificence abound at almost every turn that with such frequent high scores on my world famous 'Wow-O Meter' I might have to re-think the scale.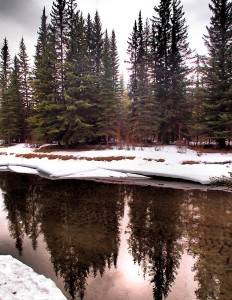 Hemmed in by mountains, Banff and Canmore are a haven for climbers, adventurers, skiers and photographers. The attraction is obvious when you attempt to glance around at the horizons which are blocked in all directions by multiple thousand foot sentinels of such fortitude that it would be almost claustrophobic if it weren't so beautiful.
The towns of Canmore and Banff have distinctly different vibes with Banff being more the party town while Canmore enjoys the more 'respectable' and (generally) older population base. Banff became an interesting place to spend some time for me due to the fact that almost everybody living there seems to be from Australia (Easy access to working Visas mixed with the pull of snow maybe). I walked down the street to the over-familiar sounds of 'G'day mate!' and 'Suffa in ya jocks!', I had to keep checking that I was still actually in North America and not North Queensland. Banff is thick with the smell of Vegemite, barbeques and corked hats, which hangs in the air not unlike smoke from annual Australia Day fireworks displays or a hills hoist clothes line…
Canmore, the more 'respectable' sister of the pair lies about 10 miles South-East of Banff, and outside the national park boundary. If you don't have a Parks Pass you will have to pay entry to the park to visit Banff, which lasts for about week or so. Staying in Canmore is less touristy (less famous) and also thus less expensive. Canmore also offers an excellent base to explore and surrounding peaks, including the famous 3 Sisters.
Within the national park there are sites, drives and hikes with scenery so stunning that in comparison police grade Tasers seem relatively insignificant… One such drive was the beautiful yet, unfortunately named: 'Lake Minnewanka'. The lake itself, thawing from its state of frigid hibernation in winter is a sight well worth the ride and one that still leaves me somewhat in awe.
Ice crystals gleam and sparkle around ruptured ice sheets, prefect clear water can be glimpsed through giant cracks in the shimmering feet think ice sheets, this all set to a backdrop of a formidable craggy peak, capped in snow, standing silent, powerful and magnificent. Grandeur on a scale that I find hard to imagine could ever be surpassed. Even a snow dusted Yosemite was found wanting in comparison.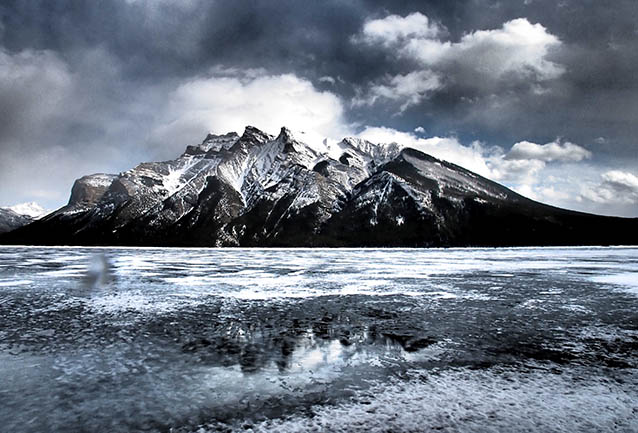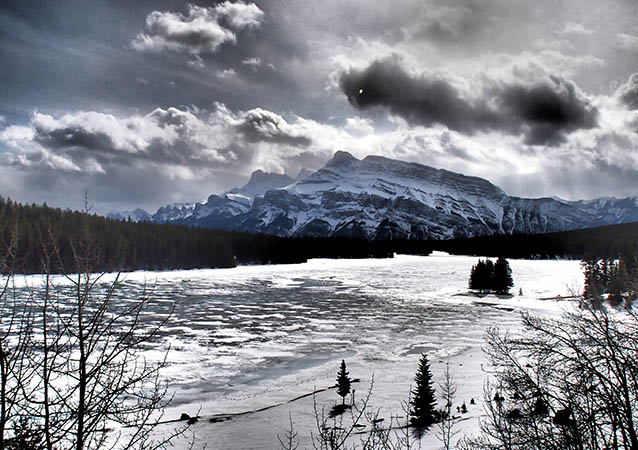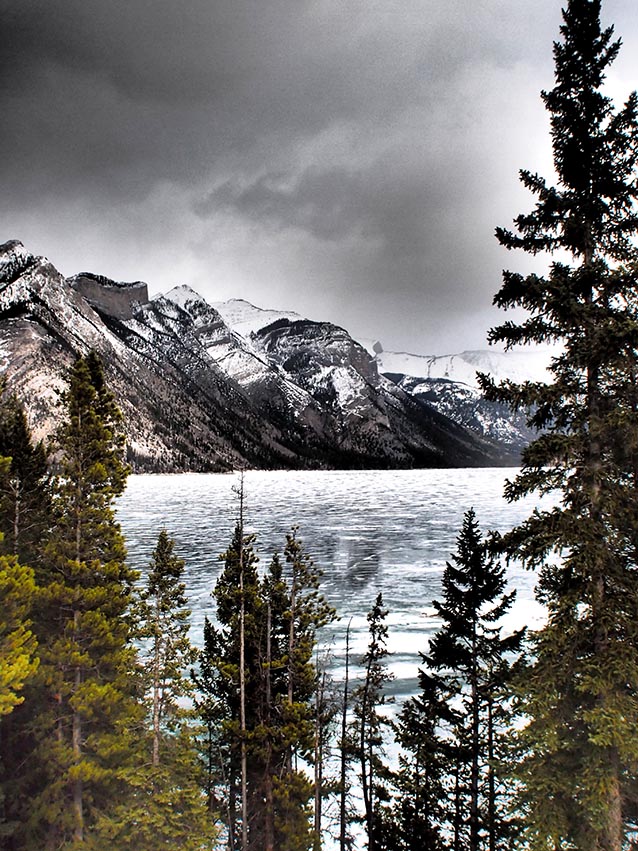 Obviously the wild and the scenery are the drawcards here, you can surround yourself with mountains, solitude and any form of winter based adventure activity you could imagine. Alternatively there are things worth doing inside Banff itself of the more relaxing variety.
The Fairmont Banff Springs hotel, located within Banff, is an old retreat opened in 1888 to help the uber-wealthy enjoy a relaxing lengthy vacation. Today it's revised its clientele (somewhat) to also accommodate the moderately wealthy.. making spending any length of time there somewhat of an impossibility for this humble Pleb. However it is very grand and worth a look, so park your rental down the road in the free parking area and wander it's many halls, (it literally has banquet halls) marveling at the almost medieval masonry, decoration, armour and weapons on display.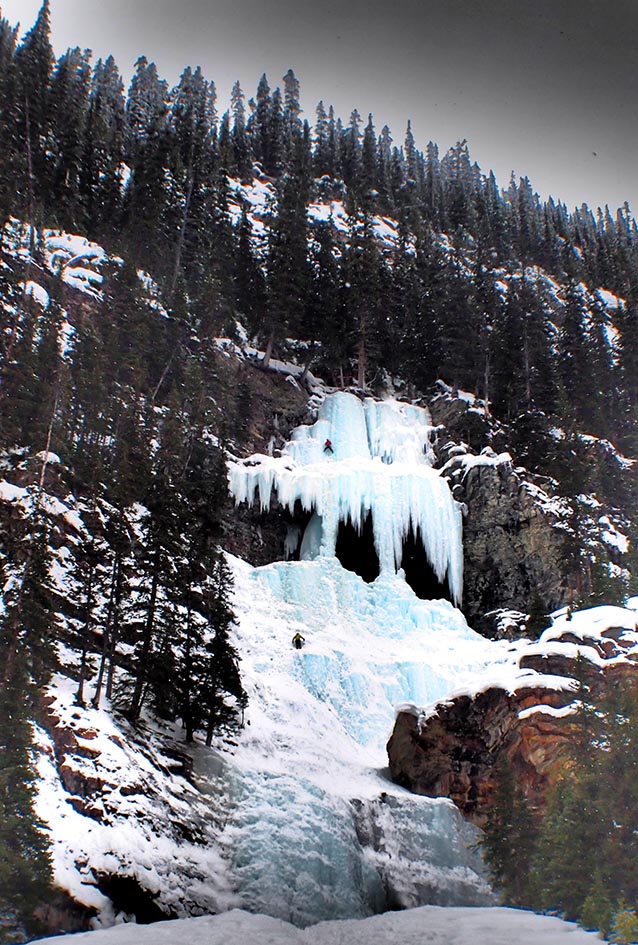 Other fun things to check out in Banff are the Thermals Springs which bubble into tepid pools of mineral water cooled to a soul-warming 40 degrees (Celsius). On the walk in you might notice the locals sitting on the edge of what looks like a swimming pool in nothing but bathers in the -10 degree weather and wonder if Canadians are either stupid or just really tough… that is until you step into the water yourself. After only 10 minutes of 'wallowing' time I joined them with only my feet actually touching the water, while the rest of me greedily welcomed the many snowflakes that had started falling down around me as a way of cooling off…
Also worth a visit while in the area is Lake Louise; a beautiful picturesque lake (surprise surprise), sitting in a valley commanding some fantastic views (and rather steep accommodation prices at the inevitable luxurious hotel overlooking the scenery).
Driving through the Banff National Park is right up there with the best and most awe inspiring scenery in the world. It's nothing like the bleak desolation of Death Valley, it's the opposite, a thriving celebration of life, with some of the most memorable and beautiful imagery I've ever witnessed.
Canada, go there immediately.