Bus Rides in America & Why A Cheap Bus Service Is A Bad Idea
Bus vs. Train? Personally, it's hands down the train, no contest. Bus rides can be fun, don't get me wrong, but nothing compares to a comfortable train with one of those serving carts that bring you food and coffee. Busses are uncomfortable, take longer to get places and occasionally terrifying (read on my friend). Unfortunately, they are also usually cheaper than trains, hence the predicament I found myself in below, where my frugality had gone to war with my common sense and won. A cheap bus service is occasionally going to win out against my better judgement because occasionally I'm also tighter than a camels arse in a sandstorm. In fact, one of my most recent bus rides was frankly terrifying…
It is 2:00 am, almost nothing good happens at 2:00 am. The guy sitting next to me reminds me of Charles Manson. He smells like tobacco, body odour and criminal insanity. Maybe it's something to do with the animated discussion he was having with himself in the line; maybe it's just that he genuinely looks like he sleeps under a bridge and drives a shopping cart for a living or perhaps maybe it's the fact that he has a swastika tattooed on his neck.
Whatever it was, from now on I'm going to refer to him as 'Just Released' and right now he's sitting uncomfortably close to my right side.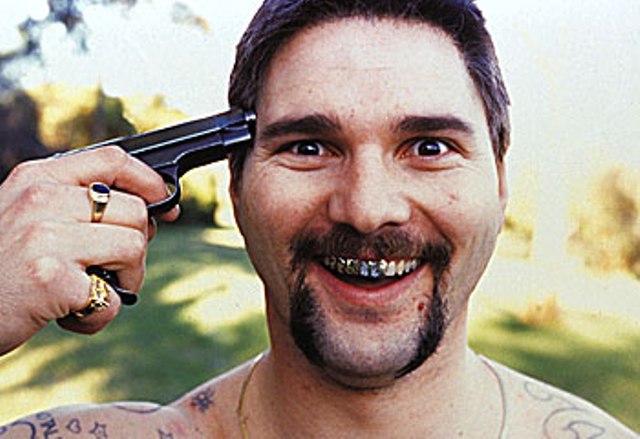 As I'm typing away 'Just Released' leans his unshaven face over towards my ear and quietly in a voice that sounds like a body being dragged over dry leaves, whispers: "Have you ever made love to man?" Shocked I shake my head in disbelief as he adds: "Do you want to?" Thankfully this worst case scenario I was playing out in my mind fades as we hit a bump in the road and I get a fresh whiff of his body odour.
Luckily I was not sexually assaulted by Ted Bundy on one of the Greyhound bus rides into Portland.
As some people may have guessed I have chosen to ride Greyhound's rather scary but also cheap bus service. This particular ride was an enlightening 17-hour journey that started at 4:00 pm yesterday (at the time of writing) in San Francisco and will end early tomorrow (this morning) in Portland.
The worst part is I actually got off lightly sitting next to a Nazi version of Chopper. The rest of the Greyhound clientele look more like the kind of villains you get in superhero movies.
The Joys Of Bus Rides
On this particular bus ride, my poor girlfriend is sitting next to a woman who is honestly so fat she should come with a health warning. I was going to try and take a picture but I'd need a wide angle lens, and the sound of the shutter would draw her attention and might make me a target for her next meal.
Why might you ask, do long distance bus rides in America attract such 'interesting' clientele? A question I have been asking myself ever since I decided to forgo the pleasures of flying to spend time with California's criminally insane. I have no idea, bus rides over here are actually not that much cheaper than the train. I expected a cheap bus service like Greyhound to be, I dunno more like they are in EVERYWHERE ELSE IN THE WORLD. I'm jumping ahead here but interestingly enough, taking another bus ride into Canada from Seattle the clientele were polite and I never felt unsafe or at risk of being consumed by another human being.
As we thunder towards Oregon 'Just Released' starts snoring loudly. I'm torn, do I elbow him to wake him up and risk leaving the bus with a far better idea of the techniques involved in 'Shanking' someone or do I just ignore it?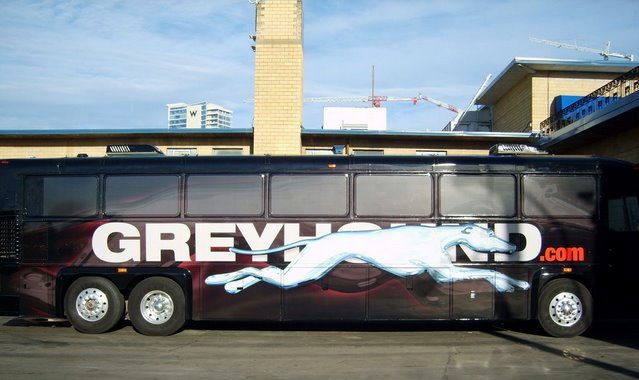 I decide to keep my mouth shut and read a book.
An interesting choice on a Greyhound bus ride, given that reading, would have been more at home in Nazi Germany than among these fine fellows. I put the book down in frustration and glared at the now very loudly snoring 'Just Released' and contemplate all possible meanings of the word 'strangle' wanting to kill someone so badly hasn't happened since I was throwing elbows on 5th Ave in New York.
Meanwhile on the other side of the bus: A thick shake, 3 packets of chips and a double cheeseburger have fallen into the fat ladies gravitational pull.
Bus Rides in the US: I'm a Survivor!
Hours later we arrive in Oregon, in one piece and with a better understanding of what prison time would be like. What doesn't kill you makes you stronger I guess and these kinds of bus rides are no exception. I have had some memorable bus rides throughout Asia in my time, including sharing my seat with a chicken but this one has to be up there!
Moral of the travel story: There are many different ways to get around and see America. Bus, car, train and plane, each has its own unique pros and cons. Sometimes when you travel, it shouldn't always come down to cost: sanity, safety and serial killers should probably factor in there somewhere too.
Lesson learned for next time, and the wheels on the bus go round and round…