5 Cruise Destinations You're Probably Not Aware Of
When people think of the posh side of holidays, cruises have long been at the top of the list. If you think about it, travelling on a floating luxury hotel, with all of the amenities you could want at your disposal, while moving from one beautiful sight to another, is rather difficult to beat.

While many people associate the Caribbean or the Yucatan with cruise destinations, there are many other less conventional places that cruises take passengers all over the world. Here are 5 of the better ones:
Ecuador / The Galapagos
This is a cruise that would highly entertain any fan of natural history. Smaller ships are used to get into the areas that the bigger boats cannot access, giving each trip a more exclusive feel that makes them seem more like an expedition than a holiday. A cruise around the Galapagos Islands is a little less conventional than say, heading to the Greek islands but that's the point right?
The Galapagos Islands are a nature reserve with a population of just 25,000 people and a nine-night trip will take you to Quito in Ecuador and then to eight of the Galapagos Islands, allowing you to see plenty of wildlife in person. You'll be able to enjoy the joys of discovery as well as the luxuries of rest and relaxation, win/win.
A Nile Cruise
If you're interested in ancient Egypt (and who isn't), consider a cruise that lets you see the living, breathing culture of a country that is almost as old as time itself. The Nile River provided the Egyptians with a mode of transportation as well as the water for agriculture, as well as playing a central role in its mythology, making it the lifeline of the country. As you travel down the Nile, you can take a swim in the pool or drink copious amounts of ice cold beer and re-hydrate after a day exploring the wonders of the country with expert Egyptologists.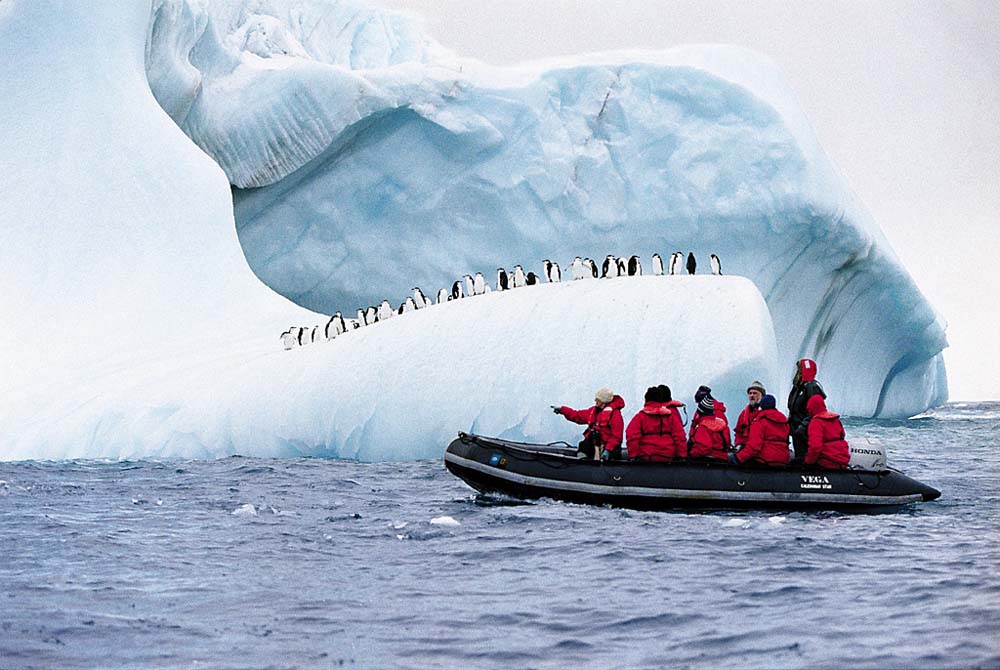 Antarctica
While most people think of cruises as pleasure barges with reclining sun-beds, swimming pools and cocktails, the most adventurous traveller may see the opportunity to do something more than simple rest and recuperation. The difficulty of just getting to the Antarctic has long been a source of fascination for many before even getting to the actual destination.
It is still the least inhabited landmass on Earth, but the vast natural ice formations offer some of the most awe inspiring scenery in the world. You can even take a walking tour of Deception Island and get in a dinghy to watch natural ice floes pass you by. This is an unbelievable chance to see a pristine part of the Earth, still largely untouched by humans and witness some of the most amazing natural beauty on the planet; it's not just a whole lot of frozen water!
Amazon River Expedition Cruise
The dark jungles surrounding the Amazon River might not seem like the most likely place for a cruise, but the views that are offer are absolutely stunning. You'll see hidden lakes filled with black water, lagoons, extensive wildlife and can watch the pink and grey freshwater dolphins from the Yarapa River frolicking in the wake of your vessel. The intriguing Magdalena village, with its immense water lilies, are also a sight to see! If you're feeling particularly brave, you can fish for piranha in Charo Lake too, not your conventional cruise holiday now is it!?
Burma And The Malay Peninsula
While you sail up the Yangon River and then over to Phuket, you can get a real sense of what life in South East Asia was like centuries ago. You'll enjoy the serene Phi Phi islands before exploring the fascinating colonial background of Malaysia. Many cruises to this part of the world will finish with a two-night stay in futuristic Singapore, giving you a real sense of contrast between what once was and today's vibrant South East Asia.
Whichever destination you choose, life aboard a floating hotel is always going to be good. However, it's important that your time at sea be as carefree as possible, so cruise travel insurance should always be taken out before you set sail. Having this peace of mind while you climb ice burgs or bait carnivorous fish should allow you to enjoy your ever-changing surroundings to the full!
For other great locations to cruise around, check out The True Delights of Fethiye: Land & Sea.