Sometimes we just need to accept that we need to get away from it all and indulge in some seriously indulgent relaxation and rejuvenation. Holidays can be the best way for us to recharge our batteries and enjoy some quality time doing something for ourselves. However, we have all experienced the feeling of coming back from a holiday and feeling that we need another one to recover from the one we've just had. So with that in mind, we have created a list of our top three most relaxing holidays, to make sure you are feeling completely relaxed, de-stressed and those batteries have been well and truly charged.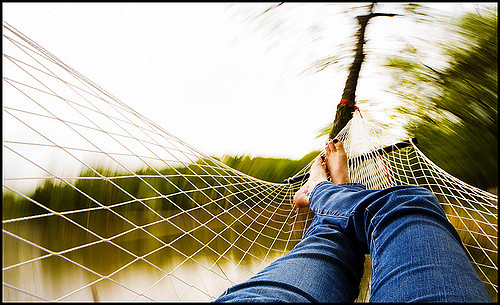 A guide to putting your feet up (thanks Image source)
1. Most Relaxing Holidays – A Cruise

A cruise is a wonderful way to see and experience multiple destinations whilst enjoying some serious relaxation time. The luxury of cruises is that instead of jumping on trains, buses and multiple taxis to see many different places, your cruise ship will allow you to relax in-between all the sightseeing, meaning you won't find your holiday exhausting. So you travel from place to place with zero effort and maximum chill out time. Therefore if you're looking for a holiday that offers both exploration and relaxation, cruises really do offer the best of both worlds.
Jump online and have a look at the different options available for both ocean and river cruises. 
2. Most Relaxing Holidays – Yoga Retreat
Sometimes when life is really getting the better of us, and we feel a little bit overwhelmed, there's really nothing left other than to call in the big guns. If you're feeling like your daily routine has recently been depleting you of all your energy and you need to do something really special for yourself, why not look into checking yourself into a yoga retreat?
Yoga has become increasingly popular, in mainstream society, over the last couple of decades for its ability to allow us to take back control of our mind, body, and soul and find really active ways to increase our overall well-being. Yoga not only allows us to stay trim and fit it also encourages a more calm way of living, reduced stress levels and provides us with coping mechanisms to deal with the everyday challenges that life can throw our way, which is why it's the second of our most relaxing holidays.
Whether you are an old hack at yoga, or whether you can barely touch your toes, yoga retreats cater to all levels and welcome a wide range of people looking for a spot of all important R&R. Therefore if you're feeling like you need a breakaway, that will go the extra mile in bringing you back to your energetic and positive self, then a yoga retreat may be just what the doctor ordered.
3. Most Relaxing Holidays – Countryside Break
There is really no better place on the planet for unwinding and getting away from it all, than the countryside. The combination of fresh air, calming open spaces and zero noise pollution is a winner for any of you that feel the need to disconnect and really get away from the chaos and demands of a busy life, which is why we included it in our list of the most relaxing holidays. So why not look into beautiful countryside destinations where you can enjoy the great outdoors, breathe in the crisp clean air and spend some indulgent, re-energising time with mother nature.
Countryside getaways are the perfect way to combine healthy pursuits like trekking with relaxation. They are great for bringing out your inner explorer, with the rolling hills and gorgeous open skies beckoning you to come and walk and feel at peace with yourself and your surroundings.
Countryside breaks are also great for enjoying the finer things in life also if you're looking to indulge yourself a little too. Why not look around your chosen destination for any spas where you can spend a day or two really pampering yourself with a range of relaxing massages, facials and relaxation treatments. There really is no faster way to feel instantly calm and rejuvenated than a luxurious spa day or weekend, so why not see if you can fit in a day or two around your planned holiday.
Another way to add a little indulgence and decadence to your countryside break is by researching the local area for the best eateries and places to go. By just putting in a little forward planning and online research you'll be able to make sure that the level of cuisine and dining you experience is just as fabulous as you deserve, so you can return home feeling completely relaxed, indulged and recharged.