Putting together a list of the 10 best tourist attractions in Europe was going to take some thought.. after all Europe's a big place and there are a ridiculous number of great sites to experience. After some serious thought, writing lists, re-writing those lists, then finally ignoring the stupid lists altogether, I came up with the below sites, places and attractions. Enjoy.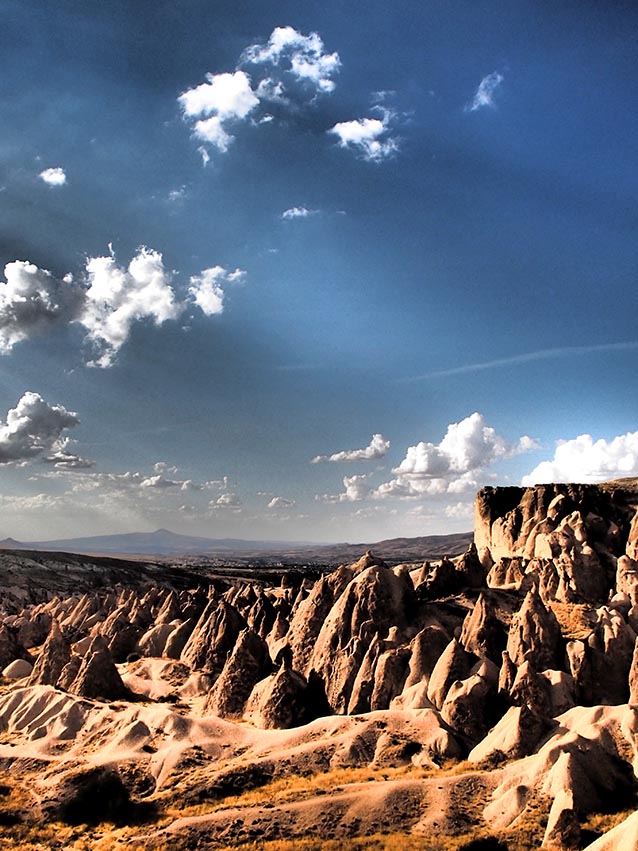 1)  Cappadocia
Hoodoo's, fairy chimneys, earth pyramids, whatever you want to call them, they look fucking awesome. These earthly towers of cool are about as common in Cappadocia as carpet salesmen are in the Grand Bazaar, and to make them even more interesting a large portion have been hollowed and carved out to form inhabitable dwellings that look like they'd be more fitting in a sci-fi film like Avatar than Central Turkey (Okay i'm well aware that this part of Turkey is actually in Asia – but i'm going to let this one through to the keeper and just keep it in the list since plenty of people will enter Turkey through Europe). Try to imagine one of the most interesting and desolate places on earth with a solid dose of history, a dash of adventure and spectacular sunsets and you have Cappadocia. Lying on the ancient Silk Road, the region has been inhabited since the latter part of the Bronze Age and the remnants of the various civilizations who once called the area home now lie scattered across the region. Underground churches, real life Flintstone houses and a major draw card of the area; hot air ballooning will make the Cappadocia experience possibly one of the more memorable in your life.. Travel Tip: Hire a scooter or 4-wheeler and go off-road; exploring the fairy chimneys around Goreme. When it gets too steep leave the bike and keep going on foot for some truly breathtaking views. I'd recommend packing a bottle of (great) locally produced wine and timing your walk to catch a spectacular Cappadocia sunset.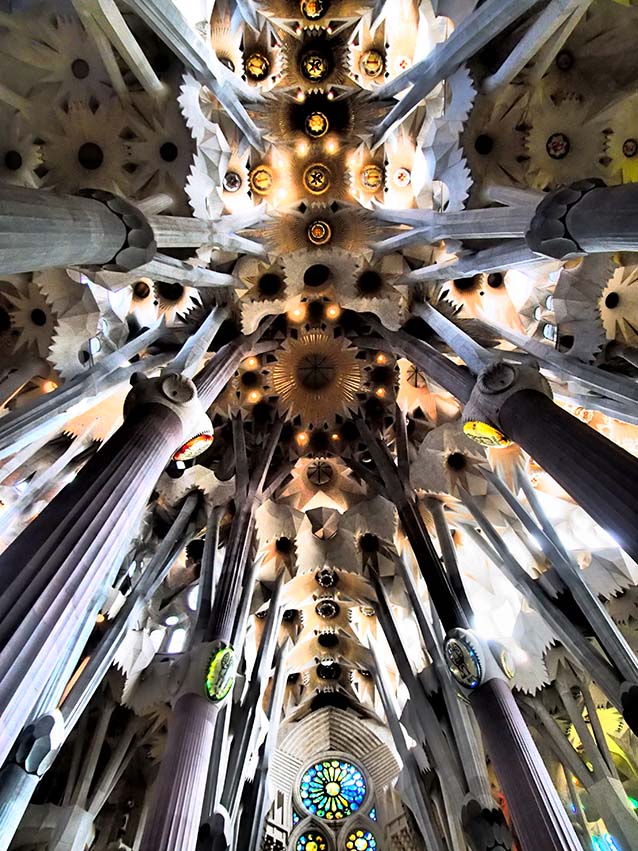 2)  Sagrada Familia
The iconic masterwork of one of humanities true geniuses; Gaudi was to architecture what Einstein was to Physics, Tesla was to electricity and Leonardo was to the Ninja Turtles… In my opinion it's humanities the single greatest architectural achievement and the Pyramids, Hanging Gardens and Acropolis can all go jump in the lake. It's like nothing you have ever seen and in the immortal words of an American tourist I overheard as we went by: "What kind of insane genius could come up with something like this?!?" Gaudi described the interior of his work as a 'spiritual forest' and the building does indeed remind you of something organic, even alive… The outside of the building is enough to keep anyone spellbound with its size, complexity and the bizarre interplay of shapes. While not as 'alien' as the exterior, the inside of the cathedral is equally powerful and interesting. The colours, shapes, columns, scale, use of light and metal make it literally breathtaking. I can't think of anything else in the world I have ever seen built by man that comes even close to this building. Travel Tip: BUY YOUR TICKETS ONLINE, PRINT THEM AND YOU CAN SKIP THE INSANE BLOCK WRAPPING LINE..  yep people for some reason don't seem to research these things before arriving, and much like the Louvre, spend hours waiting in the hot sun…
3)  Bruges
One of the best preserved medieval towns in Europe, however the downside of Bruges is that EVERY MAN AND HIS DOG KNOWS ABOUT IT!! Still it is worth a couple of days in any European itinerary for sure. Bruges is built on the canals, is a history buffs wet dream and has one of the best medieval squares in the world; complete with bell tower and enough Gothic architecture to keep the Adams family happy. Hire a bike and tour the canals from the saddle (in summer), you can circumnavigate the town in about an hour and there are plenty of quaint little lanes and cobbled streets to meander down and explore when you're not riding long the canals themselves. As it happens there's also a fantastic film  starring Colin Farrell and a midget called 'In Bruges' which I recommend you watch while in Bruges.. for added coolness. Travel Tip: Summer pulls larger crowds than the Beatles did so I'd actually recommend visiting in winter, which has the added bonus of the beautiful buildings and canals being dusted in snow.
4)  The Tower of London
Maybe it's the small part of me that still holds some nerdish Game of Thrones style fantasy about being an knight sitting atop a steaming warhorse, leading my men at arms into glorious battle… ok I admit it's not a very realistic fantasy as just the thought of medicine, hygiene and religious practices in the 12th century are enough to keep me firmly grounded in the 2013. Still the Tower of London is a fantastic experience for anyone with an interest in English or Medieval history. The various museums within the walls and White Tower are really worth a look too given the powerful historical context of the structure. Hilariously there are also the world's biggest and smallest sets of full plate armour on display.. that's right, the museum even has the armour of a GIANT AND A DWARF!! Brilliant. Travel Tip: Your admission includes a free tour by one of the well-practiced and hilarious Beefeaters, which are absolutely worth doing.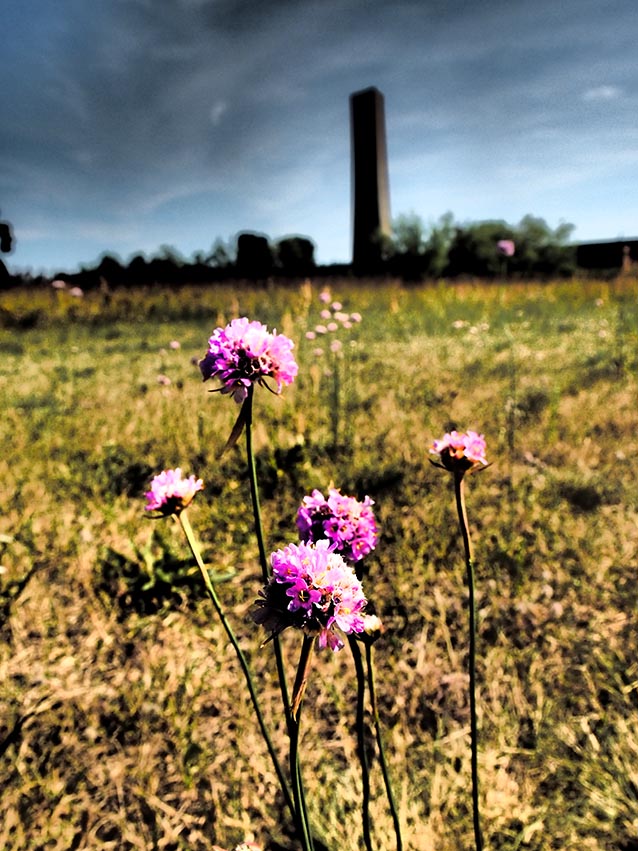 5)   Sachsenhausen Concentration Camp
Scary as hell. This memorial museum lets you walk in the footsteps of a concentration camp prisoner for a day. Rewarding as it is confronting the Sachsenhausen experience I think is an important one for anyone visiting Berlin. I wrote a more in depth post about vising the death camp here. Travel Tip: Pack lunch and spend a day with your audio guide (about 3 Euro.. and totally essential IMO) wandering the grounds, going through each area in-depth for a powerful, moving and unforgettable experience. I spent about 6 hours at Sachsenhausen and felt that I could easily have spent a few more wandering the grounds, absorbing the personal stories and tragedies of its occupants.
6)  The Louvre
So you've made the pilgrimage to see the Mona Lisa and noticed it's somewhat underwhelming demeanor… the best part is you now get to spend the rest of the day getting lost (both physically and metaphorically) in the labyrinthine halls of one of the world's best museums. There is so much art at The Louvre that if you spent 1 minute at each piece (forgetting the time spent admiring the building itself) it would take roughly 24 days of 24 hours a day continues art critiquing to see them all… You would also have seen enough naked flesh to make Vegas blush and so many creepy interpretations of hell that Rob Zombie could be taught some rather serious life lessons in the macabre. I think perhaps one of my favourite parts is watching how Maslow's Hierarchy of Needs gets very confused.. once inside the museum art and culture, (self-actualization) start taking precedent of ones more basic needs and bodily functions.. It's hilarious, just watch and wait outside an entrance to spot people emerge, blinking in the sunlight, dishevelled, dehydrated, malnourished and limping (blisters on the feet) but with a far better appreciation for the classics.. I call this 'being Louvred'. Travel Tip: The first Sunday of every month is free and there are MULTIPLE ENTRANCES!! Never wait in the main (glass pyramid) line to get in as on a recent visit this line was literally about 2 km's long and yet the side entrance I used had NOT A SINGLE PERSON WAITING! Use your noodle.
7)  Orvieto
An absolute must for anyone visiting central Italy, this tiny village perched precariously atop a rocky and fortified plateau in the Umbria region (very similar to better known Tuscany). This for me is the real Italy, with rustic little lanes, cobbled roads, beautiful old buildings and the earthy colours all brought together with the sound of old Italian ladies pinching the cheeks of their grandkids.. I can honestly say this is one of my favourite spots in all of Europe. The village is accessed via the funicular at the train station and once at the top you can easily walk around the entire town in a day taking in the amazing views of the surrounding countryside which is dominated by vineyards, fruit plantations, old churches and monasteries. There is also a rather impressive 14th century cathedral and a series of underground tunnels, passages, galleries and cellars cut deep into the rock below the town itself known as the 'Underground City'. Hilariously, due to the extreme average age of Orvieto's' withered inhabitants (everybody is really, really old) there are a number of random emergency defibrillators (like phone booths) situated all over the village.. some would say that they're only necessary due to the towns.. wait for it… heart stopping views.. Travel Tip: Orvieto is easily accessed out of Rome lying only about 2 hours away by high speed train.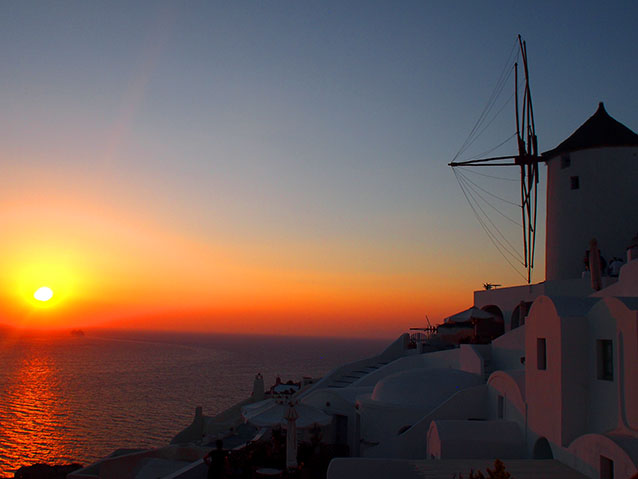 8)  Santorini
I feel sorry for the donkeys in Santorini. They have the unenviable job of hauling an endless supply of overweight tourists up the side of a truly monumental cliff. It's a tourism hotspot (which usually I hate) however in this case I'm going to overlook the irritations of dealing with families of cow people because Santorini is balls out amazing. This crescent moon shaped Greek Island is what's left of what was once a more symmetrical shape after one of the largest volcanic eruptions in recorded human history (the Minoan Eruption) disintegrated most of the island in about the year 250. Yep that's right MOST OF THE ISLAND EXPLODED.. the eruption was so violent that it may have even been eluded to in Chinese records… The volcanic activity is the reason behind Santorini's famous black sand beaches (which physics dictates is also the reason so many tourists have burnt feet here, yes it DOES get that hot and NO burying your feet will only burn you EVERYWHERE NOT JUST ON THE BOTTOM!) The classic town of Oia on the NW point of the island is famous for its Blue domed roofs, Cyclades style whitewashed dwellings and as one of the best spots to watch the fabled Santorini sunsets, which alone are worth coming to the Island to see. Join the mob of eager tourists in the early evening to enjoy the suns last hour as it plunges into the South Aegean. Travel Tip: Santorini is like a magnet for cruise ships so prices in towns reflect this so the best way to do the island is to sleep out of the towns, hire a 4 wheeler and cruise the island at your leisure.
9)  The Burren
What would the earth look like if people stopped planting crops, trees and grass, then decided to just grow rocks instead? Exactly like the Burren does, that's what. The name 'Burren' derives from the Irish word Boireann, meaning 'great rock'.. wonder why they called it that? This rural 'Karst' landscape in NW County Clare, Ireland is filled with more rocks than soil.. I have no idea what the farmers do, given 80% of their land is one big stone… It's also the kind of place where you (classically) stop and ask an old Irish guy for directions then have absolutely no idea what he's saying. Like everywhere in country Ireland the people are absurdly pleasant and the quaint roads are also so narrow that every time you pass another car you get a few more grey hairs. There are some memorable sites in the area too, including the fabled cliffs of Moher, the tiny musically inclined village of Dingle and more pubs than a drunk Irishman can poke an empty Guinness glass at. The Burren is where you go to hike through the tiny little lanes, climb ancient stone walls, gawk at standing crosses, meander through cow laden fields and dance to excellent Irish music, country Ireland at its best. Travel Tip: You need a car to really appreciate the region.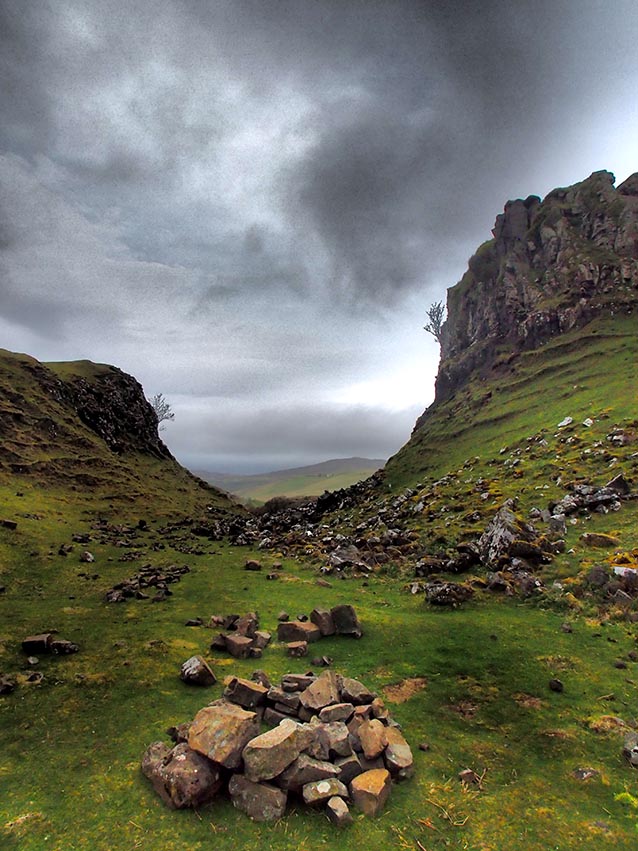 10)  The Isle of Skye
The most northerly island of the Inner Herbrides of Scotland is a beautifully picturesque, barren and untamed place. It's an amazing spot to do some camping and hiking, and has some of the most intriguing landscapes in all of the UK.  Skye also has the rather unique ability to make its inhabitants constantly appear as though they have just woken up and stumbled out of bed.. it's windy on Skye, really, properly, briskly, category 5, Scottish windy; even in summertime (which may or may not actually exist in Scotland, the jury's still out on that one). There are two spots on the isle that turn it from just 'damn cool' to 'freaking amazing'… 1) The old man of Storr, a large rocky pinnacle that dominates the southern approach of the Trotternish Peninsula. You can see it from miles away and can climb up to the bottom of the pinnacle if you're careful (lots of loose rocks, and a fairly steep incline) but the view is worth the effort and with any luck the area will get covered in low hanging clouds for added atmosphere.. it's also been used as a location in many films due to its remarkable appearance, the latest being Ridley Scott's Prometheus. 2) The Fairy Glenn is a tiny area on the outskirts of Uig that does almost feel magical in an eerie sort of way (hence the name, genius). The glen is dominated by a number of bizarre corkscrew shaped 'twisted' hills in addition to the haunted looking gnarled old trees and enough creepy stone piles and circles to keep the Blair Witch happy (legend has it that if you get lured into a stone fairy circle by the fairy lights you will be trapped there, mesmerized by their dancing forever) sadly I didn't see any fairies or freaky lights but the glen does make for a truly memorable experience and some very unique photos. Travel Tip: Camp on Skye if you can, that or hire a camper van and stay in one of the many campsites on the island.