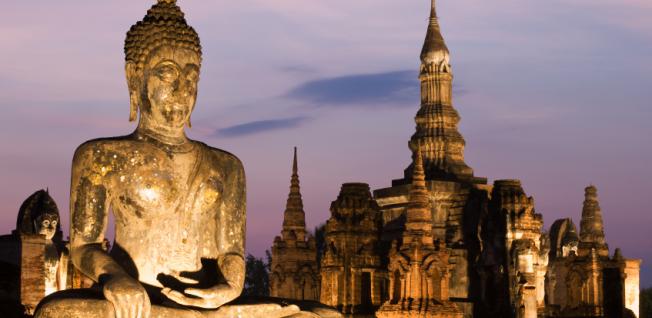 There are few places in South East Asia that evoke such picturesque and unique imagery as that of Thailand. One of the jewels in the South East Asian crown, Thailand commands a respectable tourism industry with so much more to offer than just a beach umbrella and a cocktail (although, let's be honest.. who doesn't love sitting by the beach sipping a Piña Colada?) and Thailand does this spectacularly well too.
The obvious tourism hotspots of Phuket and Bangkok spring to mind immediately but there is far more to explore in this magical Asian country than just those spots. Chiang mai in the far north of Thailand offers some spectacularly rugged scenery, especially up close to the borders of Burma and Laos. There's some amazing trekking to be done around the area too, which can be organised once In Chiang mai or prior to arriving. These treks can even include things like elephant rides through the jungle and can last for a couple of weeks (for the more intrepid out there). There is also a truly amazing open air market that offers everything you could imagine from souvenirs, local produce and local wares to delicious Thai food and snacks.. including delicacies for the more adventurous out there like candied cockroaches and other insects..
Alternatively if eating bugs isn't your thing.. why not head to Ko Samui for a luxurious and less crowded alternative to Phuket. While in the area, if you're a big partier as an added upside the fabled island of Ko Phangan  is just off the Ko Samui coast and within easy ferry ride, where once a month the internationally famous (or rather infamous) full moon parties are held.
To mix up the site seeing with some Thai culture head to the enormous city of Bangkok and experience the hustle and bustle of the one of the world's most interesting and renowned tourist cities. There's fantastic shopping to be had from luxury goods and services through to some of the biggest street markets in the world.
Essentially Thailand is a one stop shop for any type of travel; be it luxury, adventure or shopping style trips, whatever your preference may be. I have traveled Thailand extensively and the blend of wonderful accommodating people, amazing food, rich culture and stunning natural beauty is a combination that is hard to match anywhere else on the planet.