Scams in Turkey – What To Do if You Get Ripped Off or Scammed in Turkey
DIE YOU DODGY AND EVIL STORE OWNER, DIEEEEE!!! The daydream ends with me chasing the sneaky bastard through the streets of Kusadasi brandishing a screaming chainsaw aloft and laughing maniacally, REVENGE!! – Just another reaction to the many scams in Turkey.
Yes, getting ripped off can really suck, with consequences that range from ruining your day to ruining your whole trip, it's one of those painful and unforgettable experiences. Having read my previous post on how to avoid Istanbul scams either you want more information or you have been ripped off already and now want to know what you can do about it.
While in Kusadasi recently my girlfriend and I were ripped off close to $1,000, which suffice to say was not my fondest memory of the area, BUT we managed to get our money back. WHAT!! You exclaim, how the hell did you get a refund from a guy who was so dodgy that Dr Evil seemed like a perfect gentleman? Here's the story and the process of how we did it, with any luck if you've been the victim of one of the various scams in Turkey it might be of use.
Our Story in 2 sentences: We bought a leather jacket that was quoted and discussed in Turkish Lira but we were charged in Euro's.. and stupidly didn't check the currency properly before paying, we only checked the amount (and there's a pretty big difference between them). We also didn't realise that we'd been ripped off until we were 650kms away in another city after checking the credit card statements… not cool.
The place that ripped us off was a leather goods store called 'Benny's Shop' in Kusadasi.. they are evil.. don't ever shop there… ever.
So what can you do about it if you've been the victim of one of the many scams in Turkey and you're down X amount of your hard-earned money? After an evening spent researching online, we discovered that there was basically NO information about what to do if you are scammed out there at all. Like literally nothing. Most of the travel advice was about how to avoid scams that all had a 'better luck next time' sort of approach to actually getting your money back, I was starting to panic.
In this current situation, either one of two things was going to happen:
1)  We get the money back
2)  I fly back to Kusadasi purchase a chainsaw and live out my for-mentioned daydream.
Here's what happened next
We emailed the shop – The 'customer service' email address we were given was fake.
We called the shop – The number we were given was not the correct store. I was passed from person to person and after calling them back several more times I finally was able to speak to the dodgy bastard who ripped us off AND he laughed at me, accused me of being drunk and hung up on me. Okay, fuck this guy, this means war.
We called the police – They laughed at me and hung up. Ok then, fuck the Turkish police too.
The chainsaw growled and spluttered into life in my head, ok it's on. 
After another hour of research, I discovered that there are tourist police in Istanbul specifically there to help foreigners with police matters. The next day we ventured into the middle of Sultanahmet to seek out perhaps the only people who could help us. The Tourism Police are located opposite the Basilica Cistern right near the Blue Mosque. You need to go down the side of the building which is marked (admittedly not that well). There might be a guard out the front with some sort of machine gun too, just for added impact.
After speaking with the police officers there, who could not only speak English but were also very helpful, we reported the scam and the culprits and were given the address of the government department for consumer rights, near Taksim.
We headed to the address we were given, which was 133 Istiklal Ave, close to Taksim Square. The Consumer Rights Office was in a larger government building which was on our left as we walked down the street away from Taksim square, on the historic Istanbul tram line. The building was a rather nondescript doorway with a security guy in the lobby.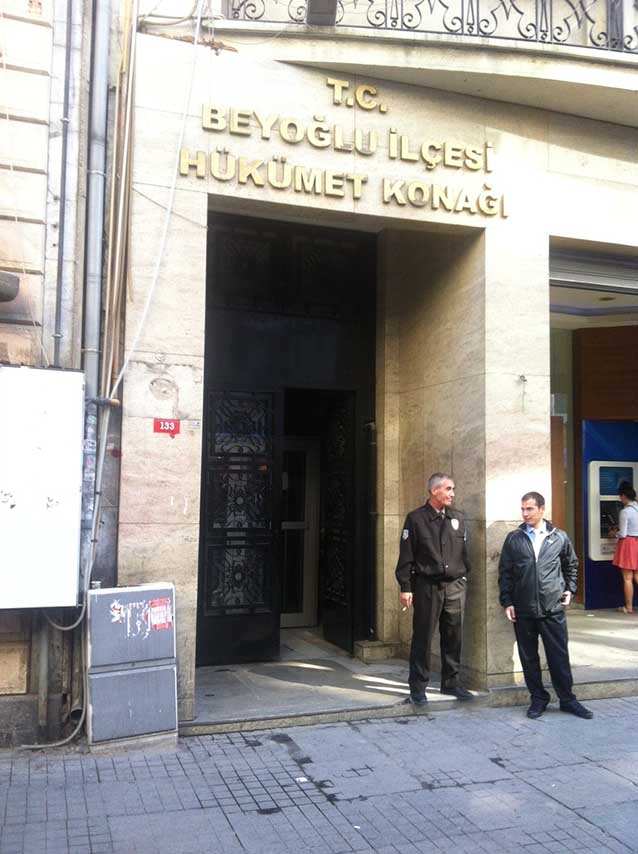 Long story short we were led around the building, passed between various people of different rank before calls were made to Benny's Shop, and an email was sent from the department asking for a refund of the difference between the two currencies and after about 3 hours we were asked to return the following day. On our return the department informed us that the store had responded, saying that a 'mistake' had been made and they were going to refund us the difference we were owed. Boom.
However, our contact at the department said it was still not 100% since they still might not actually pay. However, we now had it in writing (email string from a government agency) that the store had admitted fault, which if the Benny's Shop then refused to pay we could use the email as solid evidence of their 'mistake' for disputing the charge with Mastercard.
It took about 2 weeks after our initial visit to the Consumer Rights Office yet we did get our refund of the difference between the currencies in the end, without bloodshed or anybody losing their heads or any other body parts. Special thanks for the work of one particular government employee who I would love to credit here but I can't pronounce or spell his name, you know who are you are good sir! Hopefully, this post can help someone else out if they are unlucky enough to be on the wrong end of one of the various scams in Turkey. If anyone wants to ask me anything more specific about anything, just flick me an email.
The chainsaw's grinding screech dies away as I pull the plug.. lucky bastard.
A few tips for getting your money back if you're the victim of any scams in Turkey
1)      Ensure you have all your 'official' documents like receipts (if any were provided)
2)      Check your travel insurance for fraud/scam coverage
3)      Check your credit card insurance for fraud/scam coverage
4)      Contact your credit card and dispute the charges
5)      Try to contact the shop (if possible)
6)      Contact the Turkish authorities as described here.
Scams in Turkey – Resources
Istanbul Tourism Police Hotline – (212) 527 4505
Address: Emniyet Müdürlüğü Turizm Şube Müdürlüğü Yerebatan Cad. No: 6 Sultanahmet, Istanbul
Here's a screenshot of their location.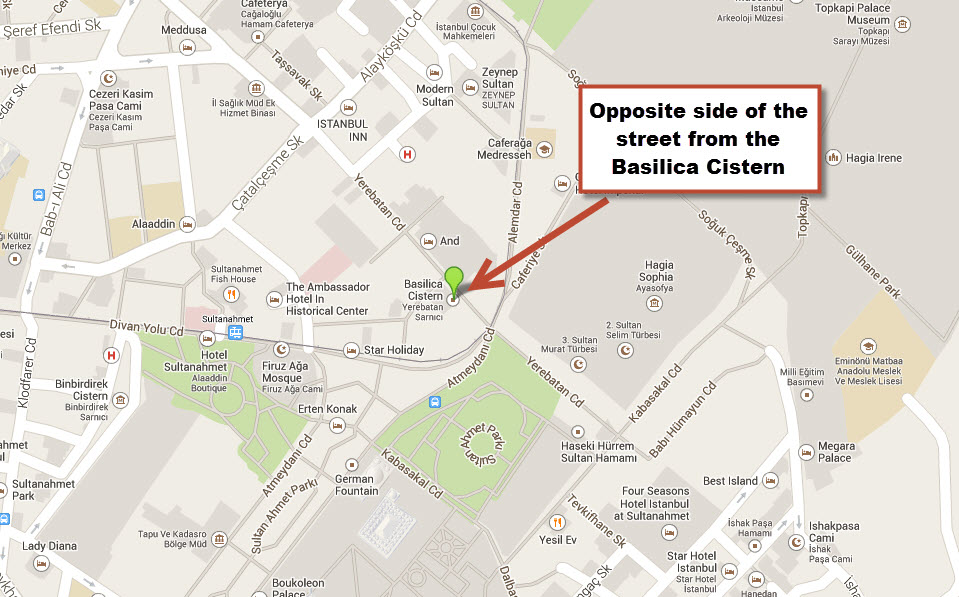 The Department of Customer Rights Office – Go there in person, as like the local police non-Turkish speaking calls will simply be hung up on.
Address: 133 Istiklal Ave, head down the street (with the old tram) away from Taksim Square and it will be on your left about a quarter of the way down.
Here's a picture of the location and entrance.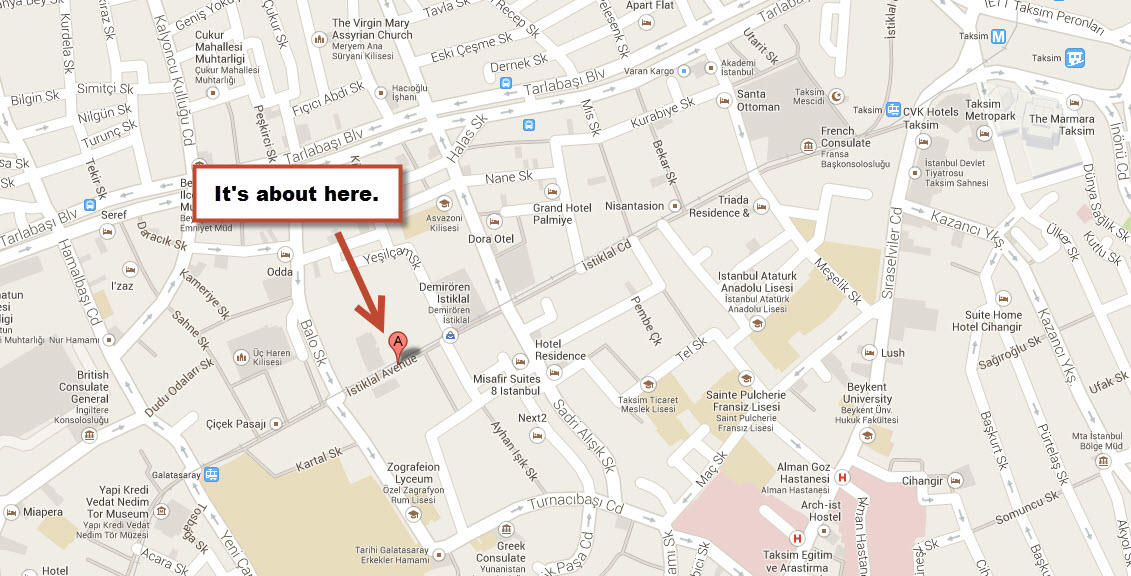 Remember though that prevention is key (as annoying as that is to hear in hindsight)! Read all about the different and most common scams in Turkey and how best to avoid them here!
Find more tales of travel and high adventure on the Nomadical Sabbatical homepage.