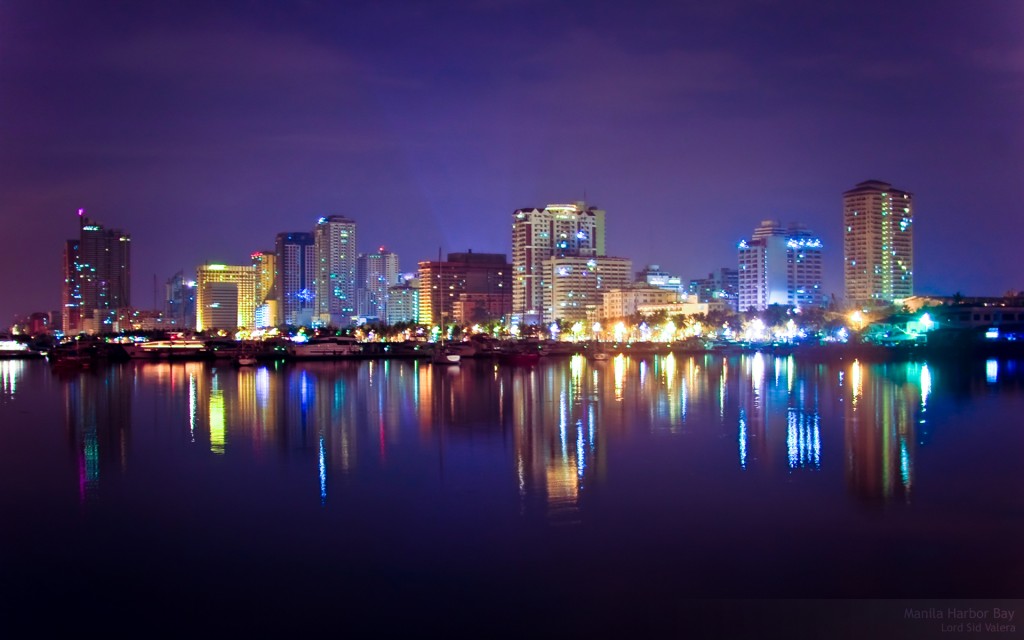 Manila City – The Emotional Roller-coaster That Is..
I would compare the first impressions of Manila city to being physically assaulted by a really friendly homeless person. Once you get to know him he's great but the first time you bask in his glory you might be in for a spot of culture shock (especially if Manila City is your first Asian city – and no Tokyo doesn't count!). He's a bit smelly, more than a bit dirty, sweats a lot, and behind the wheel of a car he's occasionally terrifying (also everywhere you look there seems to be a stray dog) but he's also kind of lovable, the more time you spend with him the more he grows on you and then when you finally part ways you somehow overlook all his problems and are just left with a silly grin on your face and too many shoes.
Earlier this year I spent about 5 weeks travelling around the Philippines which included some time in it's crowded capital city, Manila. With a population of almost 12 million people Manila city holds it's own against any other major city on earth, even New York or Tokyo, and with a population density of 700 people per Square km, you'd better get used to rubbing shoulders with a few locals. It's such a sprawling metropolis that the greater city is split up into 4 districts and 17 separate 'cities' (areas) which can be a little confusing the first time you're there.
How to get around Manila city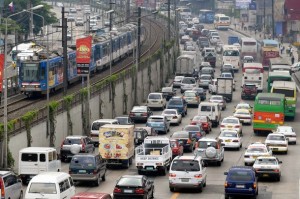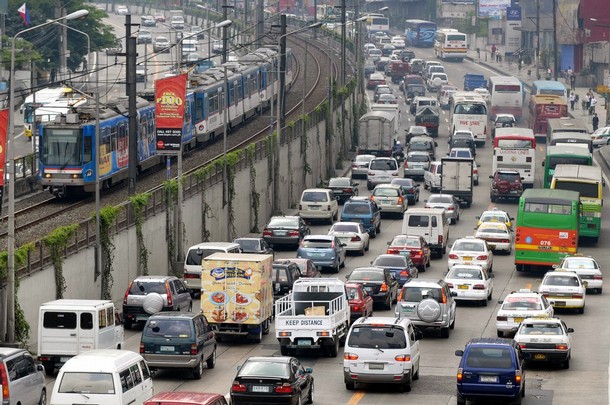 After a 14 hour bus ride we'd finally almost made our way into Manila city from the open country roads of Luzon. The journey was made all the more memorable by the guy in front of us who spent literally an hour singing Abba songs at a volume that was just a little too loud to be funny. After 14 hours of just awful Dolph Lundgren B grade Action movies (the only thing they played on the bus.. the entire time.. for 14 hours!!) and an air conditioning system that would make an Eskimo shiver, we arrived in Manila city.
Getting around this mad city is actually relatively easy due to the number of Taxi's floating around which is generally how we travelled about that place since they were pretty inexpensive, and I had about 0% chance of working out the Jeepney system. A few times we braved the humidity and tried to walk to various sites in attempts to bypass the inevitable traffic jams and for a more 'hands on' experience, but soon realised that the money we saved on Taxi's was spent on drinking water instead… I thought Australia was hot! Well the Philippines is proper hot, so be prepared to sweat more than a fat man on a stair-master.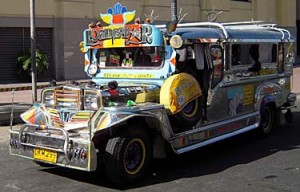 To all the men out there, suck up that bravado and gung-ho attitude and do NOT hire a suicide machine.. i mean scooter, the roads are about as chaotic as a good game of GTA, and literally hundreds of tourists are killed each year riding scooters in Asia, there are so many other places to travel with a motorbike why not try one of them instead. As a result, generally travel insurers don't cover motorbike accidents. Manila city is no exception and the roads are far from safe so by default jeepneys, taxi's or even the famous Filipino Tricycle are better options to get around the city while busses, are the best way to get in and out of Manila city and to access the wider Island of Luzon.
Every time I visit an Asian city i'm amazed that somehow out of the chaos, things seem to work, Ho-chi Minh, Bangkok, Hong Kong, Denpasar; all varying levels of chaos, but Manila city leaves these poor imitations of disorder absolutely dead in their tracks (probably after being hit by one of the many speeding busses . Yet somehow the city seems to inch along and hums with the day to day lives of the people. Every type of vehicle you can imagine seems to have made it's way onto the road in front of you, and on the rare occasion there's enough road to actually move forward they howl through smaller gaps in the traffic than you ever thought possible. Cars, busses  trikes and bikes, all miss pedestrians by inches, slam on their brakes for the third dog in 5 minutes to wander across the road then accelerating away fast enough to leave Mark Webber wishing he'd brought a second pair of pants!
Cool Stuff to do in Manila city
Lets start with what seems to be the primary occupation of Manilans.. shopping. Filipino's love to shop, actually so much so that it's kind of ridiculous. Manila city has one of the highest MPM ratings in the world (Malls Per Mile – an amazing new statistic I just invented), but seriously there are literally malls everywhere, and not just normal sized malls but super malls like the fabled 'Mall of Asia' which is so large they named a continent after it… The sad irony of the Philippines is that even though so many of it's people are scraping by day to day many of them still shop like they had a mad band of capitalists waving swords behind them. I'd highly recommend venturing into some of the larger Malls in Manila city as they need to be seen to be believed and if you're in the mood to shop you can pick up some fantastic bargains. Oh yeah, and if shoes are your thing ladies, welcome to heaven, Filipino's love their shoes like I love cake.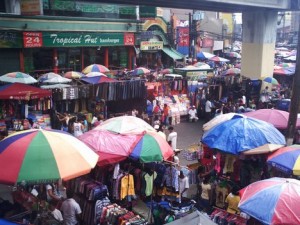 Another great way to spend a day is by exploring the many markets around Manila city. A favourite of mine, "Baclaran' is a hub for anything textiles and makes for hours of fun wandering through the lanes and stalls. Just a note on security here, be sure to keep your valuables well secured as tiny hands will inevitably find their way into your pockets if you're not careful and if you're a giant white man like me, it's a little hard to blend in so just be aware that this may happen. Also good luck getting anything at a local price since the starting point of any bartering you do will be around 10 times what it would be if you were a local, but let's be honest, it's still pretty cheap and lots of fun.
Makarti has a booming nightlife with some of the best bars in Manila city. It also has to be mentioned that there's a bar called 'The Hobbit House'' which has made it's name by hiring only little people for it's staff and holding regular 'Dwarf Throwing Contests'. Initially I wasn't too sure about how I felt in regards to taking advantage of vertically challenged people's 'virtues' but on the other hand how many more opportunities in life would I get to throw a dwarf? Sold.
One of the most amazing things about the Philippines are the historic Latin style buildings still left over from the Spanish period of colonisation, in particular the many beautiful old churches that are scattered across the islands. Manila city has some fantastic examples of these old style churches with the San Augustin and San Sebastian Churches being my two favourite examples in Manila city (both are now world heritage sites). The San Augustin Church is actually the oldest standing structure in the Philippines having been constructed in 1607, as sadly most of the amazing old architecture was destroyed by bombs and shells during world war 2.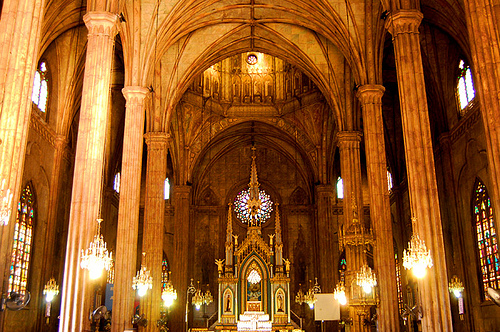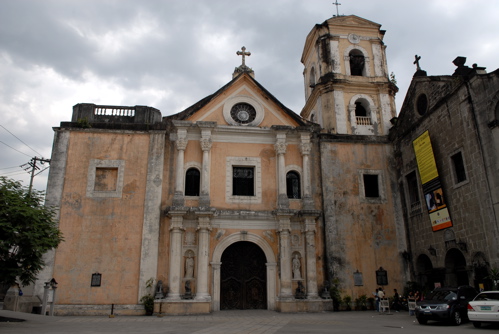 My final thoughts on Manila City
For a country that has so many social problems the people of the Philippines are some of the friendliest in the world. The local people I met on my tour of the country were happy and welcoming, especially outside of the cities in the smaller towns and villages. It was hard to walk down the street without a small entourage tagging behind and if I accepted every offer of a meal I would still be on a treadmill trying to run it off. Even though the majority of the locals in Manila city live below the poverty line they're more than happy to share what little they have with you, which is as wonderful as it is sad to see and a lesson I will take with me always. Given how poor the population are, there are some issues that foreigners do need to watch, just be careful with money as theft is a real problem especially in some areas of Manila city and also take the normal precautions you would at home when out at night or when you're wandering about alone.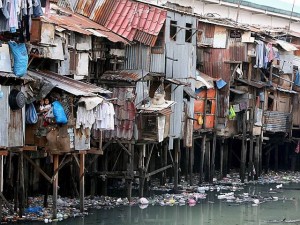 Unfortunately the grinding poverty that afflicts the country is all too common and apparent in Manila city, with slums and shanty towns quite visible from the major roads and highways across the city. The corruption is also quite staggering and stretches all the way from top politicians to the local police (during the time I was in Manila city the Chief Justice was on trial for corruption! Not even joking..)
The crowded capital of the Philippines, a country Internationally known for it's flamboyant approach to life, holds it's own against any other major Asian city. Crowds, markets, shopping, people, but also poverty and slums, Manila city has them all in droves. You will be delighted, amazed, frustrated, excited, annoyed, perplexed and ultimately I was left smiling about the chaotic experience of Manila city, but also slightly saddened by some of the things I saw during my time there. At the end of the day I have no doubt that I'll be back, there is so much more of this amazing country to see and it's hard to come to the Philippines without visiting the capital. My parting advice is to experience the chaotic ride that is Manila city for yourself and make up your own mind, it's more than worth it.