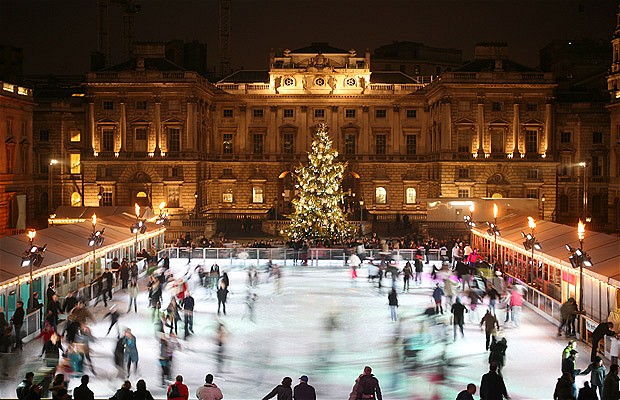 So it's coming up on Christmas again, and you're going to be in London-town for the New Year… Great, but what's there to do in darkest London at that time of year? Actually quite a lot! Here are my top tips for a special holiday season in the capital of the UK. For the best access to the below ideas, I'd probably recommend finding some accommodation in central London since then you'll be nice and close to everything.
1)     Go ice skating: Both the Tower of London and The Natural History Museum are going to be offering skating areas for holiday users to enjoy this year. The Tower will be adding a little water to its 'dry' moat that will give skaters an interesting 'historical ice-skating experience' which sounds like it might be quite fun. The Natural History Museum's effort is based around a 1000 square meter rink centred on a large Christmas tree, also including a smaller hildren's rink for the little ones and is topped off with a rink-side fair including rides, games, hot food and drinks.
2)     Go to the park: Hyde Park will be getting all festive this year with rides and attractions including 2 separate circuses and yet another ice rink. The park will also glitter in its festive glory with over 100,000 lights! A Christmas market will also offer visitors the opportunity to thaw out with hot fires, mulled wine and hot cider as well as warm food. The park will be hosting 'The Magical Ice Kingdom Experience' which includes over 200 tons of sculpted ice to explore and marvel at.
3)     Visit a historic church: What better way to get into the old Christmas spirit than visiting a beautiful old church around the holidays? Visually stunning and if you're up and about you can attend a traditional midnight mass on Christmas Eve, also worth a visit is Westminster Abby on Christmas day or Christmas eve.
4)     Head to a show: Who doesn't love a pantomime around the festive season!? Watch your favourite fairy or Christmas tales performed with plenty of audience engagement in typical panto style, and trust me, when the audience starts yelling at the actors it only adds to the atmosphere!