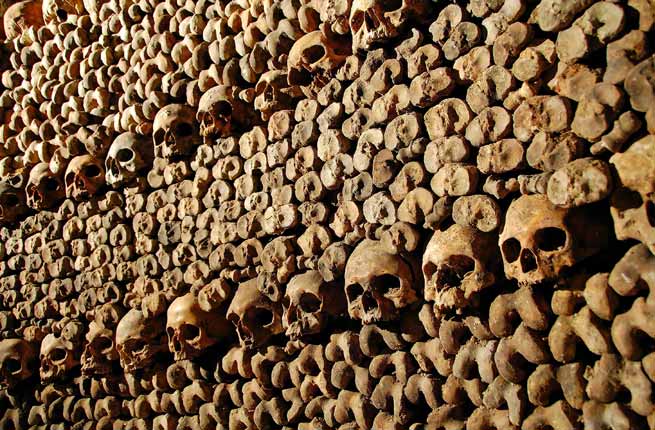 It's an eerie feeling walking through a brooding and darkened chamber surrounded by thousands and thousands of grinning human skulls, each staring at you with black empty eye sockets.. have I recently found my calling by taking a job in a morgue? Well fortunately no (not that there's anything wrong with hanging out in a morgue, in fact i've heard it's so popular that people are.. dying to get in… da dum dum ching.) Rather, I'm describing walking through one of the many passageways beneath the streets of beautiful Paris known today as 'The Catacombs'.
A Labyrinthine mass of still partially uncharted tunnels and passages; rooms and halls all running below the modern cities busy streets, the Catacombs make for a fascinating experience. With a history about as long, illustrious and turbulent as anywhere else on earth the people of Paris have added, changed, rebuilt and forgotten about the tunnels to such a degree that no one actually knows the full extent of the network.
The Catacombs of Paris have taken many forms over the years, a below ground cemetery, a former limestone mine, a battleground (used by the French resistance during WWII), all the way through to the morbid site of hard-core French raves and dance parties that some have described as having.. a killer atmosphere.. da dum dum ching..
The cemetery aspect of the tunnels (the part we tourists, seem to morbidly really enjoy) is the final resting place of around 6 million bodies, all in various states of disintegration, and has been open to tourism from around the late 18th century in some form or another with even French royalty enjoying the odd sojourn into the deep dark depths.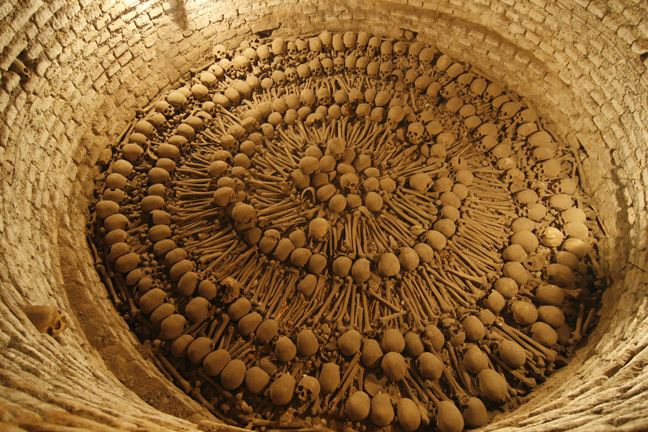 The famous images of wall to wall human bones are generally enough to provoke a response either strongly to the positive (that's freaking awesome!!) or to the negative (eeewww, that's so gross!).. either way, people do seem to always end up checking it out no matter how sick it makes you feel.
Naturally the Catacombs are shrouded in about as much myth and urban legend as Chuck Norris yet when you're down there in the dark five stories below the city you can't help but imagine what it might be like to wander off the well trodden tourist path and get lost down there in the dark, never to be seen again…
Luckily there is a rather well organised self guided tour that takes you through a small section of the network that makes it pretty hard to get lost, think big metal gates that look strong enough to hold more than a few rowdy tourists. I was staying around the corner in a pretty swank hotel I found on Trivago so transport wasn't really an issue but if you're coming from a different area of the city, the journey starts in Denfert-Rochereau which can easily be reached via the subway and doors open at 10am.
Speaking of doors, they only open to 200 people at a time, which means that given this attractions popularity, you need to get there early if a 4-6 hours wait isn't your idea of time well spent.. and that's not an exaggeration, the line for the Catacombs is ridiculous. I recommend getting there by at least 9am and during peak season even then you'll likely still need to wait about 30 – 40 mins after 10am. Yes it's crazy but it's a pretty unique experience and in my opinion it's worth a 90 min wait as long as you have a coffee and croissant in hand…